Containerised workshop gets the thumbs up in Afghanistan
A portable 'garage' facility which will support Army vehicle mechanics on the front line has been successfully trialled in Afghanistan.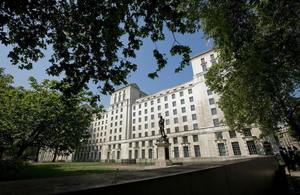 Defence Equipment and Support's (DE&S) Deployable Infrastructure Team completed the trial on the Fitter Section in a Box (FSIAB) capability, generating positive feedback from mechanics in theatre.
FSIAB is a containerised system that provides workshop facilities in Forward Operating Bases for soldiers from the Royal Electrical and Mechanical Engineers (REME).
Essentially a front line workshop that packs into an ISO container, the equipment is based on an existing in-service capability that provides maintenance and repair facilities:
To meet operational timelines, we took an innovative approach to meeting the needs of the troops on the front line," said Major Oli Morgan, Requirements Manager with DE&S' Deployable Infrastructure team.

With the financial pressures placed on defence we looked to use what equipment we already had in service, all be it in a different place on the battlefield.
FSIAB is made up of a workshop - a 20-foot (6m) ISO container - plus two inflatable shelters. It comes with its own generator, which provides lighting to allow maintainers to work around-the-clock, power for electrical hand tools and a compressor to run pneumatic tools and servicing equipment:
Having a compressor this far forward on ops is a real battle winner," said Staff Sergeant Sam Fretwell, in charge of the Light Aid Detachment Royal Welsh Battle Group.

It has allowed us to complete jobs much faster and get the vehicles back to the troops on the front line. The shelters are quick to put up and give the guys and also the vehicles much needed protection from the elements.
In addition to the workshop infrastructure, FSIAB provides cover and environmental protection for mechanics working on the Light Protected Mobility Fleet of Husky and Jackal.
It is suited to a fitter section crew of six maintainers and can be fully operational within four hours. The workshop is highly portable.
Project sponsor Colonel Colin McClean, Commander Equipment Capability, Joint Force Support (Afghanistan), said:
This is exactly the sort of capability we need to achieve forward repair as we adjust our force posture to allow Afghan Security Forces to take the lead and as we look to regenerate the equipment fleet prior to its return to the UK.
This article is taken from the July 2012 edition of desider - the magazine for Defence Equipment and Support.
Please tell us what you think about government news on the web by filling in the short survey at Related Links.
Published 13 July 2012