World news story
Consultative meeting between Cambodia and UK Parliament
This was published under the 2010 to 2015 Conservative and Liberal Democrat coalition government
Consultative Meeting between Cambodian Parliamentary Members and a senior Clerk from the UK Houses of Parliament to hold on 30-31 March 2015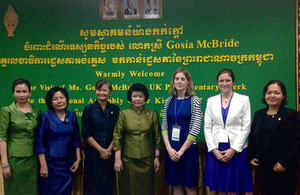 British Embassy Phnom Penh and the Secretary General of the National Assembly of Cambodia are holding a Consultative Meeting between Cambodian Parliamentary Members and a senior Clerk from the UK Houses of Parliament on 30-31 March 2015 from 7.30am at Raffles Hotel Le Royal, Phnom Penh.
The Consultative Meetings will cover political party groups on 30 March, and women in parliament on 31 March. The British expert will share experience from the UK system including how multi-party political groups are organised and managed in the UK, as well as methods to increase female lawmakers' participation in parliament. It is anticipated that the meetings will help parliamentary members build their personal capacity and bring new ideas of elements of the UK system which may be applicable for Cambodia, and also look at where the UK can learn from the Cambodian side.
The British expert, senior Clerk Ms Gosia McBride, arrived in Phnom Penh on 25 March to work on a UK-Cambodia capacity building project and has been meeting with senior Cambodian parliamentary members as well as organisations that work closely with the Cambodian National Assembly. They have been discussing working procedures in the UK parliaments and looking at how Cambodian parliamentary members can ensure that the Cambodian parliament runs as effectively as possible.