Press release
Consultation on forced marriage launched
The public are to be asked their views on whether Forced Marriage should become a specific criminal offence the Home Secretary, Theresa May, announced today.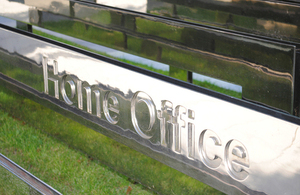 The government has already signalled it intends to strengthen protection for victims and ensure perpetrators are punished by criminalising the breach of Forced Marriage Protection Orders (FMPO).  The consultation will also seek views on how this can be most effectively achieved.
Home Secretary Theresa May said:
'Marriage should be one of the happiest events in a person's life, but shockingly thousands of people a year are forced into marriage against their will.  It is an appalling form of abuse and perceived cultural sensitivities should not stop us doing more to tackle it.
'There are a wide range of strongly held views on making Forced Marriage a criminal offence and we want to hear from victims and those who work in this field before we come to a decision on the best way to protect vulnerable people.
'But we are determined, working closely with charities and other organisations doing a tremendous amount in this area, to make Forced Marriage a thing of the past.'
The UK is one of the leading countries in the world in tackling Forced Marriage and the government's Forced Marriage Unit directly supports British citizens at risk in the UK and abroad – last year it helped over 1,700 people.
Today's consultation is seeking views on whether a specific criminal offence would help to combat forced marriage and better protect victims.  It will run for 12 weeks and close on 30 March 2012.
Current legislation, the Forced Marriage (Civil Protection) Act 2007, provides a specific civil remedy to prevent Forced Marriage and assist victims where a marriage has already taken place - the Forced Marriage Protection Order. Between November 2008 when the Act came into force and June 2011, 339 orders have been recorded. Currently, breaching an FMPO is not a criminal offence.
Many if not all of the key behaviours typically associated with a forced marriage are already covered by existing criminal offences, for example: kidnapping, false imprisonment, harassment and assault. However, there is no specific offence of 'Forced Marriage'.
Notes to editors
1. The  Forced Marriage consultation can be found here http://www.homeoffice.gov.uk/publications/about-us/consultations/forced-marriage
2 The government has already taken a range of action on domestic violence as part of 'A Call to End Violence Against Women and Girls', an action plan aimed at preventing violence and providing more support for victims. To view its recent updates see: www.homeoffice.gov.uk/vawg
Published 12 December 2011