Consultation on domestic violence launched
People under 18 could be included within the cross-government definition of domestic violence for the first time, under a new consultation.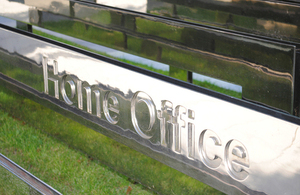 The public, police, charities and practitioners are to be asked their views on whether widening the cross-government definition of domestic violence would provide greater protection and support to victims.
The consultation seeks views on:
whether the current cross-government definition of domestic violence, introduced in 2004, is working and should remain;
whether 'coercive control' should be reflected in the definition; and
whether the definition of domestic violence should include younger victims below 18 years of age.
Home Secretary Theresa May said:
'Domestic violence is a particularly dreadful form of abuse that affects people of all ages and backgrounds.  We need to ensure we are providing protection and support to all victims.
'Effective prevention and help can only happen when all the agencies involved work together to common goals and a common understanding. It is also vital that victims themselves are clear what constitutes abuse so they seek help early and unnecessary suffering can be avoided by adults and children alike.'
Currently those under 18 years of age are not included in the definition of domestic violence.  Domestic violence committed against a person under 18 would be considered child abuse by most services.  While this may be appropriate for children experiencing parental or family based violence, there is the suggestion that teenage relationships are more similar to relationships between adults and as such could be considered as an extension of adult domestic violence.
The current government definition identifies domestic violence as 'incidents' of threatening behaviour, violence or abuse. However, it is widely recognised that domestic violence is often underpinned by a pattern of coercive control. There is a concern that without the inclusion of coercive control in the definition, it may be unclear to victims what counts as domestic violence, for example it may be thought to include physical violence only.  Victims have often been subject to multiple incidents of abuse before they seek help.
The government also confirmed today it is allocating over £225,000 over the next two years to support male victims of domestic violence.  The new 'Male Victims Fund' will help services providing support, preventative work and awareness raising activities for male victims of domestic and sexual violence.
Minister for Equalities and Criminal Information Lynne Featherstone said:
'There are some forms of violence, like domestic violence, where the majority of the victims are female and the majority of the perpetrators are male. However, we recognise that men can be victims of these crimes too and also deserve support and protection.'
Notes to editors
The consultation on 'Cross-government definition of domestic violence' can be found on the Home Office website at : www.homeoffice.gov.uk/publications/about-us/consultations/definition-domestic-violence/

In 2004, the government introduced a single definition of domestic violence, replacing the previous different definitions in use across government and the public sector.  The current definition defines domestic violence as: 'any incident of threatening behaviour, violence or abuse [psychological, physical, sexual, financial or  emotional] between adults who are or have been intimate partners or family members, regardless of gender sexuality.'

The 'Male Victims Fund' will allocate £100,000 in 2011/12 to support services focussing on male victims of sexual and domestic violence and a further £125,000 in 2012/13 to continue this support. Organisations are invited to apply by 17 January 2012.

In September the Home Office re-launched a Teenage Relationship Abuse campaign to challenge attitudes amongst teenage boys and girls that abuse in relationships is acceptable.   The campaign, which ran on TV, in cinema and online, is supported by a pack for teachers and those working directly with young people. To date there have been 151,998 visits to the campaign website 'This is Abuse' and a high level of participation in the online discussion forums.

The government has already taken a range of action on domestic violence as part of 'A Call to End Violence Against Women and Girls'.  In October the government launched a consultation on the establishment of a national Domestic Violence Disclosure Scheme, known as 'Clare's Law'. The consultation can be found at: http://www.homeoffice.gov.uk/about-us/consultations/  Domestic Violence Protection Orders are currently being piloted in three police force areas to stop offenders from contacting victims or returning to their home for up to 28 days.  The government has also introduced Domestic Homicide Reviews with local areas and agencies expected to undertake a multi-agency review following a domestic violence homicide so lessons can be learned to help prevent future homicides and violence.
Published 14 December 2011