Consultation on delegation of functions for care leavers
Details on the proposed changes to the law to allow LAs to delegate some of their work for looked-after children to external organisations.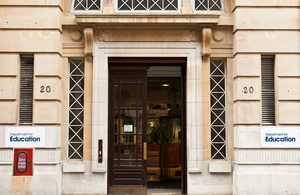 We are proposing to allow all local authorities to delegate some decision making and tasks around children in care and care leavers to external social work providers. The law that already allows this to happen expires this November. So a change to legislation will let local authorities who are already using external providers to continue to do so, and will give all local authorities greater flexibility around how to look after children in their care.
Ofsted have already said they will consider the experiences of children receiving services under delegated arrangements as part of their new inspection framework. This consultation therefore sets out our intention to remove the requirement for social work providers to register with and be inspected separately by Ofsted.
View the Department's information on the consultation in the publications section.
DfE enquiries
Central newsdesk - for journalists 020 7783 8300
General enquiries - for members of the public 0370 000 2288
Website: www.education.gov.uk/help/contactus
Published 15 January 2013