News story
Consultation launched into advertising and trading in open spaces during London 2012
Advertisers and traders asked for their views on temporary measures.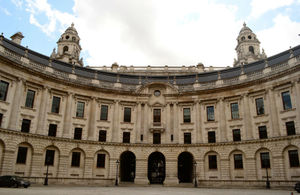 Plans for temporary restrictions to advertising and trading in open spaces directly around the competition venues during the Olympic and Paralympic Games have today been published for consultation.
Venues
The venues and routes affected by the legislation in London are: Earls Court, the ExCel, Greenwich Park, Horse Guards Parade, Hyde Park, Lord's Cricket Ground, North Greenwich Arena 1 ("the O2 arena"), the Olympic and Paralympic marathon routes, Olympic Park, Olympic race walk route, Olympic and Paralympic road cycling routes, Olympic time trial route, Olympic triathlon run and cycle routes, Royal Artillery Barracks Woolwich, Wembley Arena, Wembley Stadium, and Wimbledon.
Outside London the following venues are affected: Broxbourne, Coventry Stadium, Eton Dorney, Hadleigh Park (Essex), Hampden Farm, Millennium Stadium, Old Trafford, St James's Park, Weymouth and Portland and the outer London sections of the Olympic and Paralympic road cycling routes and Olympic time trial route.
Proportionate
The consultation sets out proposals on the management of advertising and trading in open spaces within a few hundred metres around the Olympic and Paralympic venues and road race routes. They will apply for a limited time when competition in the venue is taking place.
"The measures we are proposing are in line with those used at all Olympics since Sydney 2000," said Olympics Minister Hugh Robertson.
"They aim to strike the right balance between preventing unauthorised advertising and trading that damage the rights of the sponsors, and enabling businesses to operate as usual."
Standard requirement
It is a requirement of the International Olympic Committee host city contract that measures are in place to prevent ambush marketing and unauthorised trading at Games time.
Sponsorship is to contribute over half of the £2 billion budget needed to stage the Games along with broadcasting rights, ticket sales and merchandise. The regulations will prevent ambush marketing and unauthorised trading near Games venues, helping to protect sponsors' investment and ensuring a welcoming environment for spectators.
"Sponsorship is part of modern international sport providing a vital source of funding," added Mr Robertson. "Like many other sporting events, the London Olympic and Paralympic Games could not go ahead without its sponsors so it is important that we protect their investment as well as creating a welcoming and unobtrusive atmosphere for people arriving at venues."
Further information
Published 7 March 2011