World news story
Consulate exhibition reveals unseen images of Chongqing past
A unique exhibition of historical photographs comes to Chongqing on 14 Jun. It includes old images that were never before seen in the city.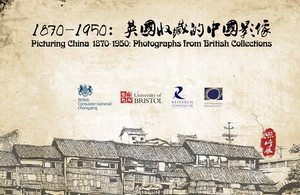 The exhibition is entitled 'Picturing China 1870-1945: Photographs from British Collections'. The pictures came to light as a result of work by researchers at Bristol University, who brought them together from the private collections, photograph albums and attics of British families whose relatives were in China working, for example, as traders, researchers or missionaries; or as tourists. A number of the photographs were taken in Chongqing between 1920 and 1945. They provide local exhibition-goers with a new view of their hometown as it was almost a century ago. The exhibition depicts a country undergoing rapid change in its society and culture as well as snapshots of expatriate life at the end of the 19th and beginning of the 20th centuries.
Benedict Mann, Deputy Consul-General in Chongqing, said:
These wonderful images from British collections provide a unique visual record of the longstanding shared history between the UK and China. I am amazed to see how areas close to my home in central Chongqing once were: for example, Chaotianmen, crowded with wooden buildings on stilts. The exhibition causes one to reflect on the depth of the UK-China relationship.
Mr Tagh Ka Wah, Managing Director at Chongqing Tiandi, the event's venue sponsor, said:
The exhibition, 'Picturing China 1870-1950: Photographs from British Collections', gives us the chance to share images of Chinese culture and heritage in bygone times with our guests in Chongqing, images which we are sure will leave a lasting impression. This event is also in harmony with Tiandi's Chinese-Western style architectures that reflect Chongqing in the 1930-1960's.
Professor Robert Bickers, Director of the 'Historical Photographs of China' project at the University of Bristol, said:
Our project is sustained through the generosity of British-based families whose forebears lived and worked in China, or visited it, and who come forward with wonderfully rich historical materials. Many of these have never been seen before outside their homes, and it is wonderful to be able to share them with audiences in China through this exhibition.
Co-organised by Research Council UK, Arts and Humanities Research Council, the British Consulate-General in Chongqing and the University of Bristol, this is the first time this exhibition has been shown in Southwest China.
'Picturing China 1870-1950: Photographs from British Collections' is open to public, at Chongqing Tiandi, from 14 to 30 June.
Published 17 June 2013