World news story
Consular Services to British Nationals in the North of Portugal
The office space associated with the British Honorary Consulate in Oporto will close on 31 August 2013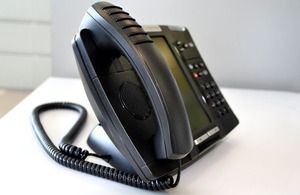 The closure of this office space in Oporto does not change the consular services delivered to British nationals in the North of Portugal. Both Ms Zilda Gomes, Pro Consul and Mr Johnny Symington, Honorary Consul in Oporto will retire at the end of August 2013. The Embassy is extremely grateful for all the work, support and assistance that Zilda and Johnny have provided both to the Consulate and to the many British nationals over the last 8 years and wish them well in their new ventures.
Ms Philippa Oliveira will take up the post of Honorary Consul on 1 September 2013 and she will continue to assist British nationals in distress in Northern Portugal with the assistance and support of the consular team at the British Consulate in Lisbon.
British Consular officials will continue to travel to Northern Portugal regularly to meet with members of the community and local authorities.
Simona Demuro, British Consul in Portugal said: "Oporto has been and continues to be very important for us. Assisting British nationals in distress in Northern Portugal is one of our top priorities. Together with our Honorary Consul and our local partners we will, under the new operating model, continue to provide appropriate and timely assistance and support to British Nationals in need".
Consular assistance
From 1 September 2013, the Honorary British Consul in Oporto, will be working under the supervision of the British Consulate, Lisbon. To contact our Honorary Consul in Oporto from this date onwards or to request Consular assistance in Northern Portugal, you should first make contact with the British Consulate in Lisbon.
British Consulate
Rua de São Bernardo 33
1249-082 Lisbon
Tel: 808 20 35 37 (if calling from within Portugal)
Tel: (+351) 21 395 4082 (if calling from outside Portugal or from a non-Portuguese mobile)
[Info.Consulate@fco.gov.uk](mailto:Info.Consulate@fco.gov.uk)

Published 27 August 2013