Consular services in Hong Kong – How we can HELP
British Consulate-General Hong Kong launches poster campaign to promote and explain the consular services we offer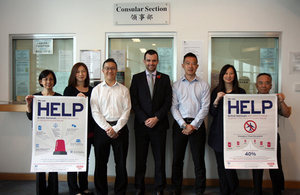 To coincide with changes to its public opening hours, the consular section of the British Consulate-General Hong Kong launched a poster campaign on 29 October.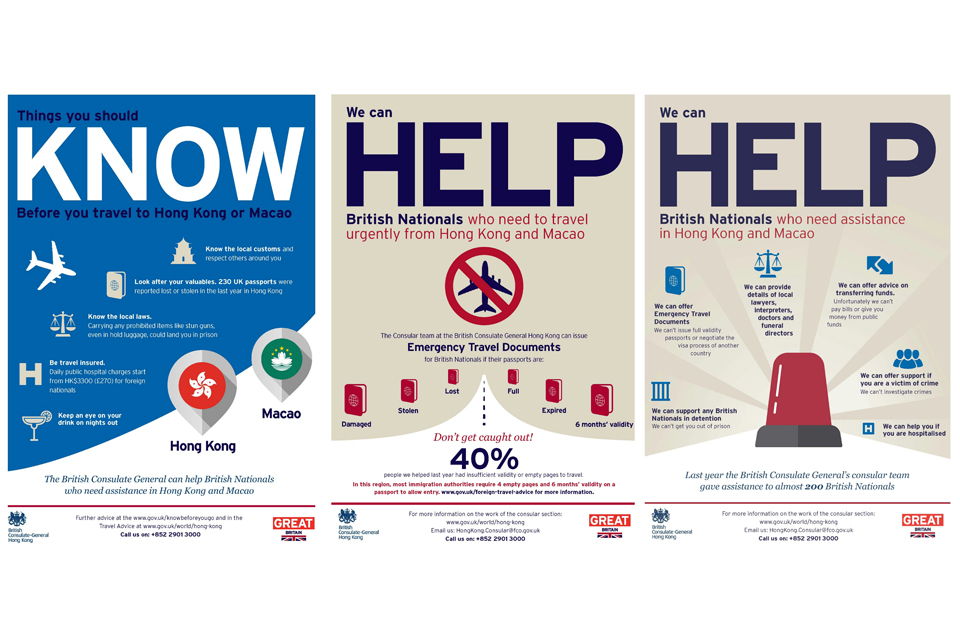 British Consul Patrick Turner said
The Hong Kong Consular team is one of the busiest in the Foreign and Commonwealth Office's global network. Every month on average, my staff and I advise – in person, by phone or by email – an average of 850 people; offer direct assistance to 15 nationals in distress; and issue between 80 and 100 Emergency Travel Documents.

The How we can HELP campaign aims to provide easy to digest information on exactly which services we can provide, and to help advise our citizens on how to avoid needing our assistance in the first place. For example, being aware of local laws on what you can carry in hold luggage to avoid getting into trouble at the airport; checking you have sufficient validity and empty pages on your passport before travelling; and avoiding expensive daily hospital charges by being travel insured.
If you are interested in having full-size copies of these posters to use in public areas, please contact HongKong.Consular@fco.gov.uk.
Further information
Accessing UK Government services in Hong Kong and Macao – a quick reference guide
Published 29 October 2015