Consular assistance in Thailand
The British Embassy in Bangkok has opened a temporary consular office outside the demonstration zone, for British nationals requiring urgent consular assistance.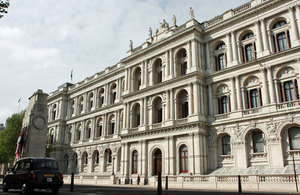 The British Embassy in Bangkok is currently closed to the public due to its proximity to anti-government demonstrations in the capital. Violent clashes between protestors and security forces have resulted in over 35 deaths and 280 injured in the past few days.
The Embassy is providing a limited service at an alternative location for British nationals requiring urgent consular assistance. Please call 02 305 8333 (in Thailand) for further information.
Speaking from Bangkok on the BBC's Today Programme this morning, Danny Pruce, Deputy Head of Mission at the British Embassy described the situation in the city:
"Things are pretty tense this morning. As you know, the Thai Government set a deadline of three o'clock yesterday afternoon for people to leave the protest sites, and after that declared those areas dangerous zones. Overnight last night there were further clashes between protestors and security personnel, and we understand there were a large number of arrests.
"Obviously, like others, we're very concerned by the continuing violence here and hope that all sides will show restraint, but also find a route towards a peaceful resolution of the situation.
"We have just this morning been able to open a consular office away from the Embassy, in a hotel in a part of Bangkok that is well away from the demonstration zone. So that would enable us to offer face to face assistance to people who are here, and who need urgent consular help."
We advise against all but essential travel to the city of Bangkok, in view of the continued political unrest. Given the increased risk of violence, if you are in Bangkok, you are advised to check FCO travel advice and monitor local media before deciding whether you need to go out.
Published 18 May 2010