World news story
Consul General to Hong Kong addresses LSE Greater China Forum
This was published under the 2010 to 2015 Conservative and Liberal Democrat coalition government
Consul General Caroline Wilson addressed the London Stock Exchange's Greater China Forum on the topic of London as an RMB offshore centre.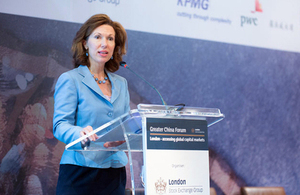 On 9 June, British Consul General to Hong Kong Caroline Wilson addressed the London Stock Exchange's (LSE) Greater China Forum event on the topic of London as an RMB offshore centre. This is the first time that the Forum – the LSE's flagship issuer and investor event in Asia for 2014 – has been held in Hong Kong.
The Consul General explained that the RMB is a priority area for the UK Government:
The leaps London has made [in the RMB market] with its enterprising private sector and international partners, many of whom are represented in this room, has been no accident. They are a result of deliberate Government policy.
She outlined the milestones that the UK has passed in 2013 and 2014 in establishing itself as the second global RMB hub after Hong Kong, for example a currency swap line agreement, receiving the first RQFII quota granted outside of Greater China and seeing the first European RQFII funds listing on the LSE at the start of 2014. The results have been emphatic:
London's share of the global RMB market jumped from 9 per cent at the end of 2012 to 15 per cent by April of this year. Given the pace of growth in the RMB market overall, this means the volume of RMB activity taking place in London grew by around 150 per cent during 2013.
Given the conference attendees' focus on investment and asset management, the Consul General spoke about the UK's strengths as an investment management hub, and stressed that the UK was making great strides as a centre for domiciling funds:
The UK ticks the boxes across domicile, asset management and distribution as well as target investment allocation. The UK is the one-stop shop for Chinese IM firms that want to enter European markets.
Beyond RMB and Investment Management, the Consul General told delegates that the UK's economic recovery was gathering pace, which is good news for existing and potential UK investors:
For the potential investor to the UK, the picture is bright. The economy is expected to grow faster than any other G7 country this year, the deficit is falling and more people are in work than ever before. The burgeoning growth is balanced across the economy. The long-term fiscal plan is working. The upshot of all this is that the UK's Office for Budget Responsibility boosted its forecast for UK growth in 2014 to 2.7 per cent in February.
Further information
Read the Consul General's speech at LSE Greater China Forum Hong Kong in full

Presentation slides by Consul General (PDF, 755KB, 8 pages)