World news story
Consul General opens Palestinian Heritage Centre in Burqin
British Consulate supported the restoration of The Palestinian Heritage Centre, attached to the 5th oldest church in the world in Burqin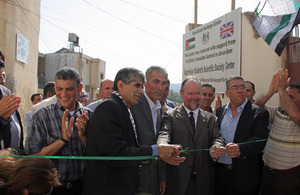 The restoration of the centre will help promote local and international tourism to the village. Every year, thousands of visitors from many parts of the world visit St George's Church, the 5th oldest Church in Christendom. However, there are hardly any opportunity for them to interact with the villagers, buy local produce or get more explanation about the living conditions of the village. Now the centre will serve as a focal point of information for these visitors.
The project also aims at providing more job opportunities for the residents of Burqin, particularly women. The centre will give women the opportunity to promote their embroideries, hand crafts, and agricultural products. The centre will be run by the women members of Burqin municipality.
The project is implemented by the Students' Scientific Society Centre which involves and encourages Palestinian youth to participate in cultural and voluntary projects.
At Burqin municipality, Sir Vincent Fean said:
The Palestinian heritage is rich and varied and is deeply respected in the UK. I am honoured to be the guest of the mayor and people of Burqin, and to open the British funded Palestinian heritage centre attached to the 5th oldest church in Christendom. The good people of Burqin and of Jenin governorate have dwelt on this Palestinian land for thousands of years and will stay here forever. We support the right of the Palestinian people to live in peace and security alongside all their neighbours, including Israel, on the basis of the borders of 4 June 1967, with agreed swaps. We hope that current international efforts to bring new life to the peace process will contribute to a bright future for the Palestinian people: the future of hope and dignity which they seek for themselves and for future generations.
The project opening was part of a one day visit to Jenin Governorate, north of West Bank. The Consul General Sir Vincent Fean was accompanied by Mr. Jonathan Jonathan Hargreaves, head of the Department for International Development DFID and a delegation from the British Consulate General in Jerusalem. He met with Jenin Governor Mr Talal Dweikat, and the Mayor of Jenin, who brieded him on the political and economic conditions in the governorate. Both also explained main problems people of Jenin face such as scarcity of water, and the effects of the wall on Palestinian economy especially farmers who can no longer access their lands.
The Consul General and the delegation also visited Jenin's Chamber of Commerce to discuss potential economic relations between Britain and Jenin. He also visited Canaan Fair Trade, a Palestinian fair trade company that seeks to empower small and marginalized Palestinian farmers through organic agricultural production.
Published 9 May 2013