World news story
Consul General announces increase in Chevening scholarships
British Consul General, Dr. Alastair McPhail, announced a fourfold increase in the number of Chevening scholarships.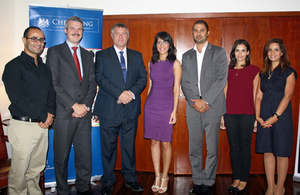 British Consul General Dr. Alastair McPhail announced last week a fourfold increase in the number of Chevening scholarships. The Consulate will offer twenty scholarships to Palestinian students next year. The Consul General was speaking at the farewell reception for a group of Palestinian students who have been awarded Chevening scholarships for the upcoming year.
Dr. McPhail said:
Chevening and our other education co-operation work are hugely important parts of the UK-Palestinian relationship.
He praised the scholarships for providing a great educational opportunity for the future leaders of the Occupied Palestinian Territories. One of the scholarship students, Addie Awwad, who will be studying Applied Security Strategy at the University of Exeter, said:
I am confident that this programme will allow me to further develop my career as a decision-maker empowered to execute policy changes that benefit people and promote justice".
The Consul General praised the accomplishments of three students from the Gaza Strip who were awarded Chevening scholarships this year. He said:
With the conflict of the recent months still fresh in our minds, the opportunities that they will have going to the UK is a symbol of the better future that we want for the people of Gaza".
Notes:
The Chevening scholarship for post-graduate studies is funded by the British government to provide educational opportunities for Palestinians in the UK. The scholarship aims to develop the abilities of young people to serve their communities in the long-run.
So far, the British Government has awarded scholarships to 209 Palestinians, who currently hold various key positions in public life. The British Consulate Jerusalem Facebook page has further details of the current group of Chevening scholars: www.facebook.com/pages/UK-in-Jerusalem
The Consulate is already accepting applications for the 2015/16 academic year with a deadline of November 15. Visit www.chevening.org/apply
Published 15 September 2014