Press release
Construction company to pay £54,000 for polluting East Sussex river
Interserve Construction Limited were fined £54,000 after admitting discharging silt-laden water into a tributary.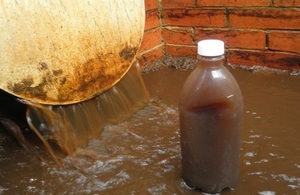 Interserve Construction Limited (ICL) has been fined £54,000 with £5,955 costs after admitting a single incident of discharging silt-laden water into a tributary of the River Rother in Burwash, East Sussex on 1 October 2014.
ICL was contracted to South East Water over an 18-month period at the Crowhurst Bridge Water Treatment Works to improve South East Water's ability to manage water treatment. The Environment Agency discovered a brown discharge downstream of the Works after a member of the public reported the discoloured water to them.
Further investigations showed that the river was visibly but locally impacted on a temporary basis.
In mitigation it was stated that this was an isolated incident of 25 minutes duration, during an 18-month contract and that the company was of previous good character. There was no evidence that local wildlife was adversely affected.
David Willis, Environment Manager at the Environment Agency, said:
We take these incidents very seriously and do everything within our powers to safeguard the environment and people that may be affected.
Contact
All media enquiries: 0800 141 2743 (please ask for the duty press officer)
Twitter: @EnvAgencySE
Published 17 February 2017