Press release
Construction begins on the Perry Barr and Witton Flood Risk Management Scheme
Construction has begun on Phase 1 of the Perry Barr and Witton Flood Risk Management Scheme, which will help to reduce flood risk to over 1,400 properties, including 950 homes.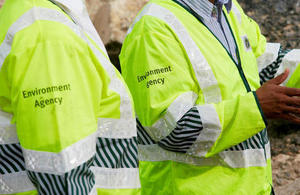 Phase 1 of the £28 million scheme involves rebuilding existing flood walls along Brookvale Road and constructing new walls alongside Atlas Industrial Estate and behind the warehouses along Tame Road. As well as this, work will begin to stop water flowing underneath the railway line between Electric Avenue and the A38. A redundant sewer which crosses the River Tame at Walker Drive will also be removed.
A planning application for Phase 2 is scheduled to be submitted later next year with construction planned for early 2017. Phase 2 of the scheme involves increasing the capacity of the existing flood storage reservoir at Forge Mill Lake in the Sandwell Valley. Design of this Phase is not yet complete, but it is likely it will involve construction of new embankments and a flood gate to control flows down the river.
Once completed, the works in the Sandwell Valley will work in combination with the Phase 1 works to reduce flood risk for residents and businesses in Perry Barr and Witton.
The Environment Agency has also been working with MADE, an organisation dedicated to improving the quality of cities, towns and villages, on the design of some elements of the scheme. The Environment Agency has supported MADE and the local community on a new initiative, entitled 'Tamed' to aesthetically improve these flood walls throughout Witton. The walls will be transformed into works of art which also reflect the history of the area. 'Tamed' will use pledges from local businesses and the public to deliver these elements of the scheme, more information can be found on MADE's crowdfunding page, launched earlier this month.
Rachel Kelly, Project Manager said:
We're really pleased that works have now begun. As well as helping to reduce flood risk, we hope these defences will be an integral part of the community.
More information on the scheme is available at: www.environment-agency.gov.uk/perrybarr
Published 28 July 2015