World news story
Conserving Kazakhstan's Golden Treasures
This was published under the 2010 to 2015 Conservative and Liberal Democrat coalition government
On 7 November Greg Quinn, Deputy Head of Mission, met with Stephanie Ward, representative of the UK Royal Society for the Protection of Birds (RSPB).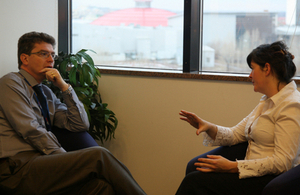 Stephanie Ward was visiting Kazakhstan to take part in the celebration of the 10th Anniversary of the Association of the Conservation of Biodiversity of Kazakhstan (ACBK). The RSPB is a long-standing ACBK partner, taking an active part in a variety of joint projects, including the Altyn Dala (Golden Steppe in English) Conservation Initiative.
The main aim of this Initiative is to conserve Altyn Dala and its biodiversity. It is a partnership between ACBK, the Forestry and Hunting Committee of the Republic of Kazakhstan, the RSPB and the Frankfurt Zoological Society. The initiative was launched in 2005 and the RSPB has been a supporter from its first days. It has provided technical expertise to develop an integrated land management plan for the area. This will deliver both conservation and economic benefits.
Altyn Dala is an area of 50 million hectares of steppe grassland in central Kazakhstan. Most activities of the Conservation Initiative are concentrated on the Irgiz-Turgai-Zhylanshyk pilot area, which covers five million hectares. The work is dedicated to the study and conservation of saiga antelope populations. There is already an obvious achievement – the saiga population has increased 500% to 150,000 in 2013 and continues to grow.
Following his meeting with Stephanie, Greg Quinn said:
I was fascinated to learn about this Initiative and the well established and long-term partnership between the RSPB and ACBK. This is an excellent example of our ever-expanding and developing bilateral cooperation. It demonstrates the UK's commitment to collaborate with Kazakhstan in various spheres and on various levels, not only business and governmental.
Additional information:
The RSPB is the UK's biggest nature conservation charity, with a history going back to 1889. They focus on conserving the UK's wildlife and restoring and protecting its natural habitats. Also they work internationally to protect birds and other wildlife around the globe. More information about the RSPB
Document information
Published: 7 November 2014