Connected cities: UK businesses pitch to Singapore and Malaysia
Ten UK firms are going on a connected cities mission to South East Asia where they will pitch ideas to business, government and investors.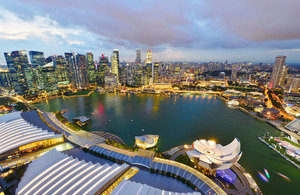 UK businesses look to expand to South East Asia
Connected cities mission 2016 - UK businesses look to expand to South East Asia
British businesses with an expertise in connected cities are to visit Malaysia and Singapore to pitch their ideas to government, fellow businesses and investors as part of a mission organised by Innovate UK and UK Trade and Investment (UKTI).
Ten companies will take part in the Connected Cities Trade Mission between 14 and 18 March:
Their expertise ranges from smart street lighting to seamless ticketing, intelligent building management, mapping and security systems
All were selected for their innovative approach to making cities better places to live and work and for the commercial potential of their technologies.
South East Asia at forefront of connected cities
South East Asia is at the forefront of the connected cities sector, and the businesses will visit incubators, private businesses and government and have the opportunity to pitch to investors.
Niraj Saraf, lead technologist for urban living at Innovate UK, said:
This trade mission will see 10 of the best UK companies showcasing their technologies in Singapore and Malaysia, 2 of the countries leading the way on connected cities.
These companies' innovations are key to addressing the challenges that large cities face. These challenges include growing populations, increased demand for energy and the integration of technology into citizens' everyday lives.
We believe these companies have huge growth potential and may become a vital part of the global connected cities industry in the near future.
Published 4 March 2016