World news story
Congratulatory message from the British Ambassador
The British Embassy in Kuwait extends sincere congratulations to His Highness the Amir on the ninth anniversary of his accession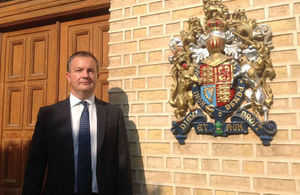 On the occasion of the 9th anniversary of the accession of His Highness Sheikh Sabah Al-Ahmad Al-Jaber Al-Sabah as Amir of the State of Kuwait, the British Embassy in Kuwait extends its warmest congratulations and best wishes.
On behalf of the British Embassy, Her Majesty's Ambassador, Matthew Lodge said:
I am delighted to offer our warmest congratulations to His Highness Sheikh Sabah Ahmed Al Jabber Al Sabah on the 9th anniversary of his accession. The United Kingdom and the State of Kuwait enjoy a long and close relationship. Our shared history, and the ties that it has helped to foster and develop, gives a particular resonance to the relationship between our two countries. His Highness Sheikh Sabah has helped to strengthen those bonds of friendship through his personal engagement and commitment, including the historic State Visit to the UK in November 2012. In congratulating His Highness on this happy anniversary, I am delighted also to acknowledge once more the role that Kuwait plays, under His Highness's leadership, on the world stage as a staunch supporter of humanitarian efforts, an advocate of dialogue and mediation, and a friend and partner of the United Kingdom.
Published 29 January 2015