World news story
Conflict Pool in Ukraine: call for project proposals in 2014-2015
Funding opportunities for projects on communications to address conflict and insecurity in Ukraine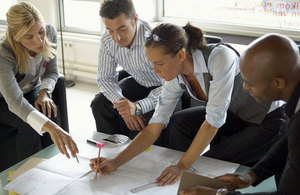 The UK government seeks applications from reputable agencies and experts for communication projects to address conflict and insecurity in Ukraine.
Funding will be for the period between September 2014 to 31 March 2015. Programmes are expected to be short-term, with solid and sustainable outcomes.
Clear and targeted communications are an essential part of peace and stability. Recent months of insecurity in Ukraine have highlighted challenges in resources and capabilities to communicate and foster dialogue and understanding between different groups of citizens and between citizens and the State.
The Conflict Pool is open to applications from Ukraine-based and international organisations that are aligned with the UK Government's Building Stability Overseas Strategy and relate to the following objectives:
strengthen the Government of Ukraine's capacity to communicate effectively with its own citizens. Particularly security, economic and political reforms (including European integration) where reforms may generate tensions if not well-explained
reduce tensions and improve understanding between different groups of Ukrainian citizens
improve dialogue and communication between citizens and the state in both directions
ensure media reporting (around flashpoint and contentious issues) is neutral and conflict sensitive
Criteria for implementing organisations
We invite applications from organisations with:
a demonstrated reputation for high quality work in the types of activities identified above
a track record of effective delivery in Ukraine (and/or other countries of the former Soviet Union)
ability to work in Ukrainian and Russian languages
willingness and ability to work across the whole of Ukraine
ability to begin implementation within 1 week of bid being successful
ability to deliver results by 31 March 2015
hard evidence to back up the need for (and success of) the project
We have a total budget of approximately £1,200,000. There is no lower or upper limit for proposals. However, we intend to fund one to two large strategic projects, with a number of smaller self contained bids.
We will use three criteria to assess proposals:
Results: Will deliver concrete and sustainable results by 1 April 2015. Clear outputs and deliverables identified. Consideration given to how the proposal could be taken forward if further funding were awarded in 2015/16.

Partnerships: Range and quality of partner engagement and support. The proposals should indicate who will be the local partners, and how (including Government and civil society). If appropriate, it should link to other peacebuilding and/or communications programmes.

Analysis: We seek quality analysis to underpin the proposal, demonstrating clear understanding of the situation on the ground and of the interventions most likely to reduce insecurity. The proposal should also identify risks to delivery and have mitigation plans in place. Reporting will need to be regular. And there should be clarity over how to evaluate the success of the project.
Interested implementing organisations should submit their proposals in the Conflict Pool project proposal form by 3pm on 26 August 2014.
Bidding Process
Further information
Please read FAQs paper about this call for proposals.

Please note that emails from ukr.net accounts can be filtered by the system and not delivered.
Published 18 June 2014
Last updated 12 August 2014
+ show all updates
New call announced on 12 August 2014
Added translation