News story
Conflict and stabilisation adviser position available
Join our core staff in the Conflict and Stabilisation Team based in London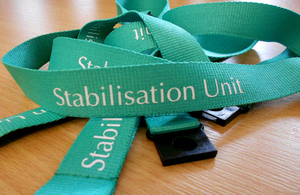 Note: This post is open to non-civil servants
The Stabilisation Unit is seeking an adviser or generalist with significant experience of working on and in conflict-affected and fragile states to join our team of core staff working within the Conflict and Stabilisation Team (CST). CST, along with the Unit's Security and Justice and Lessons teams is home to the unit's subject matter experts. These teams undertake a wide range of assignment work related to conflict issues on behalf of the unit's parent departments (Foreign and Commonwealth Office, Department for International Development and Ministry of Defence).
The Stabilisation Unit supports the UK's engagement in conflict-affected environments by supplying high quality personnel in the right place at the right time. In order to ensure that the unit can meet the demands of its parent departments, SU invests in the acquisition and management of the knowledge and skills that are essential to delivering HMG's Building Stability Overseas Strategy (BSOS). The adviser will be expected to work closely with all SU teams and contribute to the wider work of the unit, including lessons capture.
Terms & How to apply
This post is a permanent and pensionable Civil Service post, and will be subject to a six month probation period (for non-Civil Servants, or those Civil Servants that have not already passed their probation period). This job is based in London and open for external recruitment, so applications from non-Civil Servants are welcome.
Those interested will need to submit an application form, along with an up-to-date CV - for more information on how to apply, and further details on the role, please see Civil Service Jobs (reference 1418178).
Application Deadline: 30 November 2014
Published 12 November 2014