Conference on the future of the European Court of Human Rights
The UK is hosting a high-level conference on the European Court of Human Rights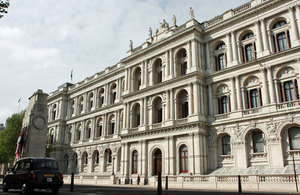 The two day conference in Brighton sees representatives of 47 member nations of the Council of Europe gather to agree ways to improve the Court.
As current Chair of the Council of Europe the UK has made reform of the Court its priority.
The conference was opened by Justice Secretary Kenneth Clarke, who said he was hopeful that agreement would be reached.
Speaking to delegates in Brighton, Kenneth Clarke said:
"As one of the founder members of the Council of Europe, and as the first State to ratify the European Convention on Human Rights, the UK is delighted to be holding the Chairmanship and hosting this conference. It is a huge honour, and a responsibility that we take very seriously.
"We have all worked together, as 47 States Parties, to produce a package that helps sort out the delays and improve human rights on the ground.
"Our shared priority is to show that it is possible to bring sensible and meaningful reform to the Court without weakening human rights, giving up on the Convention, or undermining decent standards across Europe."
Read Kenneth Clarke's full opening speech at the Brighton Conference
---
Published 20 April 2012