Conference on freedom of religion or belief
The Foreign Office, the Canadian High Commission and Wilton Park are holding a conference on combating intolerance and promoting freedom of religion or belief for all.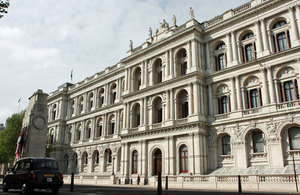 In March 2011 the UN Human Rights Council adopted Resolution 16/18 on "Combating Intolerance, Negative Stereotyping and Stigmatization of, and Discrimination, Incitement to Violence and Violence Against, Persons Based on Religion or Belief." The resolution focuses on a number of concrete, practical measures that states can take to combat religious intolerance.
This week's conference brings together experts from governments and civil society across the world to share knowledge and skills focusing on particular parts of resolution 16/18, including;
overcoming obstacles to the equal participation of all groups in society
combating intolerance through education
developing collaborative networks between government and civil society
Promoting the right to freedom of religion or belief is a key human rights priority for the British government. Freedom of thought, conscience, religion or belief is one of the fundamental freedoms that underpins other human rights and is a key building block of any democracy. It is not only vital to the identity of believers, but to those without a faith too.
Where individuals are not free to practice their faith, generally other freedoms are under attack too. Governments have a key role to play in creating the conditions for all to practice their religion freely.
Notes to editors
More information on the conference
More information on Foreign Office work on freedom of religion or belief
Published 4 December 2012