World news story
Competitive Selection for the UK's Royal Military Academy Sandhurst
Young officers from the KSF attended a very demanding two day selection process to win a place at the UK's Royal Military Academy Sandhurst.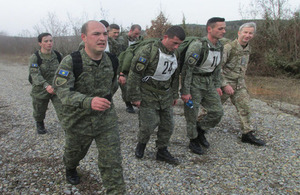 Four KSF Second Lieutenants attended selection at KSF Training & Doctrine Centre (TRADOC), Ferizaj, which saw them participate in an Army Officer Selection Board run to the same high standards as the UK version. The Board consisted of a range of academic, physical, mental and aptitude tests, assessing the suitability of individuals to attend the Royal Military Academy Sandhurst, the UK's premier military training academy. English was used throughout and the Board was overseen by a British Army officer.
Competition for places at Sandhurst is extremely high. All the participants demonstrated the qualities and ability to attend Sandhurst and represent Kosovo, but following an open and transparent selection process the successful candidate was Lieutenant Adison Gara.
Brigadier General Enver Cikaqi, Board President and Commander of TRADOC said:
I was very impressed with the standard and performance of the candidates and how professionally the board was run.
Lieutenant Colonel David Jones, Adviser to Commander of KSF congratulated Lieutenant Gara on his selection and is confident that he would perform well at Sandhurst and be an outstanding representative of the KSF and Kosovo.
Published 23 February 2015