Competition begins to find 2017 UK City of Culture
A nationwide contest to find the UK's next City of Culture was launched today by Culture Minister Ed Vaizey.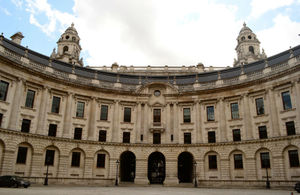 The competition, that comes in the same week that Derry-Londonderry officially kicks off its year as the first ever UK City of Culture, is designed to use culture and creativity as a catalyst to transform communities, as well as showcasing artistic talent.
Ed Vaizey said: "The UK City of Culture is a prestigious title that is a vehicle for encouraging economic growth along with highlighting the very best of the country's cultural talent.
"Derry-Londonderry are already making the most of the opportunities being UK City of Culture brings and I would urge other local authorities and partnerships across the length and breadth of the UK to consider putting themselves forward."
Those interested in submitting bids to be UK City of Culture 2017 are invited to register with DCMS by the end of February.  Bids for the 2017 competition must be received by the end of April after which they will be assessed by an Independent Advisory Panel with the aim of announcing a shortlist in June.
Phil Redmond, Chair of the Independent Advisory Panel said: "The success of Liverpool's year as European Capital of Culture and the excitement of Derry-Londonderry's year as the first UK City of Culture show that this programme really can act as a catalyst for change. We want to see bids that are distinctive, ambitious, and represent their local area. As well as demonstrating cultural excellence, the panel and I want to see partnerships with innovation that will engage a huge range of audiences. And above all we need to see plans that are realistic and deliverable."
It's hoped the announcement of who has won will be made in Derry-Londonderry in November this year.
Notes to Editors
For interview requests with the Culture Minister or Phil Redmond please contact the DCMS press office on 0207 211 2210.

Guidance on how to apply and background information including a list of members of the Independent Advisory Panel can be found here.

Derry-Londonderry was named the first UK City of Culture on 15 July 2010. More information about their programme is available on their website.

In their year as European City of Culture, Liverpool received 9.7 million additional visitors to the city which resulted in over £735 million in additional visitor spend. Derry-Londonderry hope to have 2800 tourism jobs by 2020 as a legacy from their year as the first UK City of Culture.
Press Enquiries: 020 7211 2210
Out of hours telephone pager no: 07699 751153
Public Enquiries: 020 7211 6000
Published 21 January 2013