News story
Competition and Markets Authority's first set of accounts published
The Competition and Markets Authority (CMA) today published its 6 month financial report.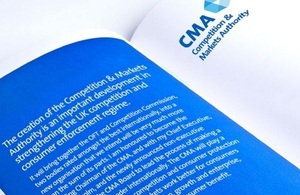 The CMA was launched in shadow form on 1 October 2013 before starting to exercise its statutory functions on 1 April 2014. These financial accounts cover the 6 month period of the CMA's operation as a shadow authority (1 October 2013 to 31 March 2014).
From 1 April 2014 the CMA took over the functions of the Competition Commission (CC) and the competition and certain consumer functions of the Office of Fair Trading (OFT).
Published 17 July 2014