Companies receive CDS commendations for support to military community
Two companies, F A Albin and Sons and the West One Group, have received the inaugural Chief of the Defence Staff's Commendation for their support of the Armed Forces community.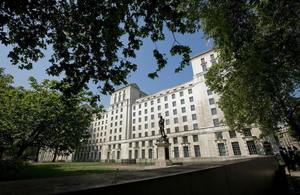 Part of the Armed Forces Covenant, CDS commendations are intended to recognise outstanding support and commitment of a rare and exceptionally high standard by non-military individuals or organisations to the Armed Forces community.
The two companies chosen to receive the first of these awards were F A Albin and Sons, a London-based Funeral Directors, and the West One Group, which represents 23 central London hotels.
Part of the F A Albin Group is Albin International Repatriation, which is responsible for the worldwide repatriation of MOD personnel - a contract which they have now held for 12 years.
The focus of their work of late has been the repatriation of personnel from operational theatres, sending personnel to Afghanistan to care for all of our deceased personnel and to prepare them for repatriation.
Their commendation stated that, at RAF Brize Norton, the F A Albin team deliver an outstanding service in the provision of immaculate hearses and personnel to ensure that repatriation ceremonies are conducted in the most professional and respectful manner.
However, notwithstanding this high profile work, it is the behind-the-scenes work which is over and above the contract that has been so commendable.
On receiving the commendation from General Sir David Richards, Barry Albin-Dyer, Chairman of F A Albin and Sons, said:
I was blown out of the water really. I was left sitting there thinking is this correct? It is so easy to say how proud we are and how honoured we are, but the nicest thing for me I think is that they have made us feel part of this family.
We feel more connected to the military and that is important because we are not military of course, but this has made us feel very much a part of that family and that is what is important to me.

It recognises that it is not just the people that go to the very dangerous places of the world, from Libya to Iraq and Afghanistan, but the people that stay at home and cover for them and the people that do the office jobs - they are honoured in this and this is about them. We are very grateful.
Meanwhile, David Morgan-Hewitt, Managing Director of the Goring Hotel and Chairman of the West One Group, received a commendation on behalf of the West One Group.
In 2008, the West One Group showed an interest in recognising the work of the Armed Forces by offering Service personnel rooms in their hotels at nil cost. The Group subsequently pledged up to 810 free rooms per year for Service personnel and their guests attending investiture ceremonies.
Since January 2010, Service personnel have been receiving instructions in their investiture packs advising them how to contact the hotels directly in order to take advantage of the offer.
Mr Morgan-Hewitt said that, while the company did not set up the arrangement looking for any kind of recognition, to receive the commendation was a real honour.
He said:
We set about to do this in order to recognise the troops and the whole idea was that when people came to get their awards, especially operational awards, at Buckingham Palace, we would try and offer them up to two or three rooms for them and their family so they could come the night before, settle in, enjoy it and have much more of an occasion, because after all, for many of these people, it is the most important day of their life.
And it has proved a great success. None of us were expecting any sort of award or really any sort of acknowledgement, so for us to be acknowledged in this way, both West One and East One are absolutely thrilled.

But for us the great thing is meeting the people themselves. We meet the servicemen and women who are being honoured and that is all the reward you need, because you meet the most amazing people who have done the most amazing things and who are so incredibly humble about it.
Following the award of the commendations General Sir David Richards said:
This commendation reflects the very high regard in which we hold these two organisations. It is hugely deserved recognition for the imaginative hard work, professionalism and service they have given Armed Forces personnel over the past decade.
Please tell us what you think about government news on the web by filling in the short survey at Related Links.
Published 19 July 2012