Press release
Community path scheme is a success
Natural England has produced a report that summarises the success of the Paths for Communities (P4C) scheme.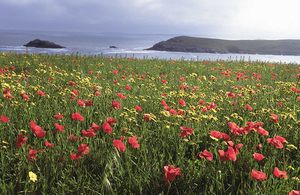 The 2 year community-focused initiative, launched in May 2012, was set up to develop and enhance local public paths, both extending access and making the network easier to use.
The £2 million scheme was managed by Natural England and encouraged rural communities to work with landowners to develop public rights of way. As well as extending the network, it brought a range of both social and economic benefits.
Main findings
The P4C fund invested in over 183 km of public rights of way (PROW) including the creation of an additional 55 km of new bridleway and 21 km of new footpaths - in total over 76 km of new PROW. In addition, P4C secured improvements to a further 107 km of existing routes where these were connected to the new PROW created.
Most of the routes provided access for walking, horse-riding and cycling and many of the projects also provided specific improvements for a range of users with limited mobility including wheelchair users and those with pushchairs. Improvements included surface works to make the routes more accessible, bridges, access friendly gates, signposting, promotion and information boards.
The scheme supported a range of social and economic benefits to rural communities and levered in additional funding from business as well as voluntary contributions. Letters of support were received from 112 rural businesses along with supportive letters from schools and medical professionals, all of which anticipated a range of benefits from the PROW improvements.
The projects recorded an input of 11,786 hours of volunteer time.
A good level of interest in the scheme was demonstrated along with the ability of communities to develop applications that met scheme requirements. There was still evidence of unsatisfied demand when the project closed to applications.
View the final report and supporting documents.
Andrew Sells, Natural England's Chairman said:
Paths for Communities was the first scheme of its kind and proved incredibly popular. Communities are best placed to identify where rights of way improvements are needed and they've worked hard with landowners and a variety of organisations on a significant number of projects around the country.

Local businesses have also been supported by the work needed to create and improve new routes – and from more people enjoying them. There is a wealth of evidence in this final report and we hope it will help and inspire funding organisations to support communities to develop similar projects in the future.
Environment Minister Dan Rogerson said:
The Path for Communities scheme has been a huge success, opening up miles and miles of beautiful countryside for everyone to enjoy.
It has boosted local tourism and rural businesses helping to create a stronger economy and a fairer society.
What sets this scheme apart is that local people had the opportunity to identify the projects that would benefit their community the most.
The P4C scheme was launched in May 2012 with £2 million of funds provided under the Rural Development Programme for England to spend by March 2014. The scheme closed to new applications at the end of September 2013. Expressions of interest were received from 287 potential applicants and 43 communities were awarded grants to the value of £1,970,375 (98.5% of the £2 million budget).
Natural England has produced an interactive map showing case studies of the projects which have benefited from the fund.
Case study
Friends of the Beck was set up in 2012 to improve the environment and access along Bottesford Beck, which runs on the southern edge of Scunthorpe. The Beck Linear Park Path application was awarded a grant of £73,609 towards total project costs of £82,099.
The project successfully created approximately 3.3km of new bridleway and 1.5km of new footpath, which included surface improvements, signposting and barriers to stop motorbikes.
Margaret Armiger led the group and said:
We now have a bridleway accessible and used by, horses, prams, pushchairs, wheelchairs, cycles, runners, walkers and dog walkers. The general consensus is one of gratitude for access by all to our wonderful river, lake and parkland.
The project's success has encouraged the Friends of the Beck to develop their work even further and the group are working in close partnership with the Local Authority and Environment Agency on various environmental improvement projects along the Beck. Their hard work and dedication has been recognised a number of awards including a Big Society award, CPRE award, runner up for the North Lincolnshire Council Community award and a commendation for a Living Waterways award.
ENDS
Notes to editors
Examples of P4C projects include:
in Somerset a 60 metre bridleway at Kilmersdon Link is providing an important connection to the Colliers Way running from Frome to Bath
800 metres of bridleway created by the Nesscliffe Hills project in Shropshire is providing an essential safe link across the busy A5 trunk road. It now links to 51 miles of walking, cycling and horse riding stretching across the whole county and connecting to The Jack Mytton Way at Church Stretton
a National Trust project has created 12.3 km of new bridleway and 900 metres of new footpath in the Lizard Peninsula in Cornwall
the P4C project in Elwick, County Durham, has contributed to a newly created Heritage Trail around The Limestone Landscape Partnership's 'Village Atlas', attracting more visitors and boosting the tourist economy.
Partners involved in P4C projects include:
local authorities (parish councils, highway authorities, district councils, national parks)
access interests (Ramblers, health walk groups, Parish Paths Partnerships, Sustrans, British Horse Society, Local Access Forums)
landowners
environmental organisations (local environmental groups, wildlife trusts, Country Park Friends group, National Trust)
community groups (local residents, youth groups, church, local trusts, disability groups, Rural Community Council)
local services (schools, museums)
public bodies (Environment Agency, Forestry Commission, Areas of Outstanding Natural Beauty)
private firms
Costs
The average cost per metre for all works associated with the project is £46.05 based on costs set out in application forms. This is a one-off cost, with most capital items expected to have a lifespan of 20 years.
The cost of the surface improvements alone was £20.17 per metre. The costs include:
surface works
fencing
gates, horse stiles and chicanes
infrastructure such as bridges, boardwalks, raised platforms, steps, seats and bins
drainage and earthworks
interpretation panels, signposting, way marker posts
promotion of the route
Published 13 November 2014