News story
Community learning innovation fund report: 15,000 learners benefit from projects
The Skills Funding Agency and NIACE have launched a new research report to review the community learning innovation fund.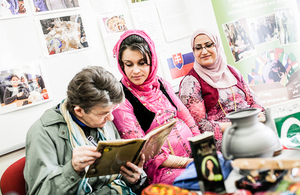 The Skills Funding Agency and National Institute for Adult Continuing Education (NIACE) have launched a new research report to review the Community Learning Innovation Fund (CLIF).
It shows that nine out of ten people who took part in learning funded by the CLIF now intend to get a job, volunteer, or to continue learning.
The CLIF, which was managed by NIACE for the Skills Funding Agency in 2012/13, consisted of almost 100 projects, mostly led by the third sector. More than 15,000 learners in around 1,500 learning programmes benefitted from the fund.
The projects engaged adults from a range of diverse backgrounds. These included residents of deprived localities and adults who were marginalised, excluded or struggling in life due to their personal circumstances.
The learning, as part of the CLIF projects, has helped people:
with poor mental or physical health
with disability
in vulnerable housing
with a history of offending or being offended against
with a history of substance or alcohol misuse
in poverty or who are isolated
The participants included a higher proportion of men (37%), disabled learners (31%) and members of Black and Minority Ethnic (BME) groups (27%) than is often the case in traditional community learning provision.
Half (50%) of the learners were not in paid work and around a third (34%) were not taking part in any education or training at the start of their CLIF project. Nearly half of the participants (46%) left school at 16 or below and a further 1 in 5 (19%) left at 17 or 18. One in 3 (33 per cent) of CLIF learners have had no involvement in learning since leaving full-time education.
Skills and Enterprise Minister Matthew Hancock said:
"This report is clear evidence that community learning can transform the prospects of people who are disadvantaged and furthest away from the jobs market.
"Community learning can improve social mobility, by helping people to get online, involving them in decisions about local learning and giving them the opportunity to make the most of their lives."
Published 27 January 2014