News story
Community designation gives passengers a say on rail line
Preston and Ormskirk line designated a community rail line giving passengers a greater say on how services are run.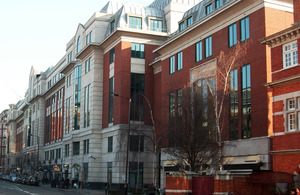 Passengers in the North West will be able to have more of a say on how local rail services are run with the designation of the line between Preston and Ormskirk as a community rail line, Rail Minister Theresa Villiers announced today (22 September 2011).
Designation enables train companies to work more closely with community rail partnerships to better design services to meet local need.
Rail Minister Theresa Villiers said:
I am delighted to be able to make this announcement ahead of the national 'Community Rail Awards' which aim to reward excellence and promote best practice in community rail development work. Designation means that local communities can become even more involved in how these services run and encourage train companies to provide the services local people want.
Ian Bevan Managing Director of Northern Rail, which runs services on the route, said:
Northern welcomes the designation of the Preston-Ormskirk line as a community rail route. This line plays an important role in the area and designation will assist in identifying innovative ways of developing this line to the benefit of local people and visitors to the region. The community rail partnership for the line is already doing a great job and this will enable it to go from strength to strength.
County Councillor Tim Ashton as Cabinet Member for Highways and Transportation at Lancashire County Council said:
This is an important landmark in the development of the Preston to Ormskirk line. The County Council is committed to working with the West of Lancashire Community Rail Partnership, the railway industry and the Department for Transport to implement the Route Prospectus and especially to promote the introduction of a clock face and easy to remember timetable. The achievement of Community Rail designation is an important part of the process and one I hope that will bring tangible and lasting benefits to the communities served by the line.
Roger Bell, Chair of the West of Lancashire Community Rail Partnership said:
Designation marks the start of a new chapter in the history of the Preston to Ormskirk line. For many years the Community Rail Partnership has been seeking improvements to the train service along the line. Through designation and with the help of the railway industry we hope this aspiration can now be realised. The Community Rail Partnership has developed an Action Plan that sets out how the aims and objectives of the Route Prospectus can be achieved. I look forward to exciting times ahead.
Further information
The Community Rail Development Strategy looks at innovative ways of operating local branch lines, through a programme of cost management, a drive to increase passenger numbers and direct community involvement via local authorities, community rail partnerships, and other stakeholder groups.
To date, 17 lines with their services have been designated as Community Rail lines:
St Ives Bay Line: St Erth to St Ives June 2005. Selected as one of the six pilot projects.
Abbey Line: St Albans Abbey to Watford Junction June 2005. Selected as one of the six pilot projects.
Esk Valley Line: Middlesbrough to Whitby June 2005. Selected as one of the six pilot lines.
Tamar Valley Line: Plymouth to Gunnislake September 2005. Linked with Looe Valley as one of the six pilot projects.
Looe Valley Line: Liskeard to Looe September 2005. Linked with Tamar Valley as one of the six pilot projects.
Penistone Line: Barnsley to Huddersfield September 2005. Selected as one of the six pilot projects.
Island Line: Isle of Wight (Ryde to Shanklin), March 2006.
Tarka Line: Barnstaple to Cowley Junction Exeter, September 2006.
Maritime Line: Falmouth to Truro September 2006.
Derwent Valley: Derby to Matlock September 2006.
East Lancashire Line: Colne to Gannow Junction Burnley November 2006.
Gainsborough Line: Marks Tey to Sudbury November 2006
Barton Line: Barton-on-Humber to Ulceby N. Junction January 2007
Bittern Line: Norwich to Sheringham September 2007.
Lakes Line: Oxenholme - Windermere April 2008.
South Fylde Line: Blackpool South - Preston April 2008.
Lymington Line: Brockenhurst - Lymington July 2008
Additionally, 11 services have been designated as community rail services whilst not designating the lines on which they run. These services are designated when there are reasons why the infrastructure cannot be included in the designation - because it carries non local traffic or heavy freight or has previously been designated as part of the Trans European Network. To date the following services have been designated:
Poacher Line: Grantham to Skegness July 2006. Selected as one of the six pilot projects.
Atlantic Coast Line: Newquay to Par September 2006.
Marston Vale Line: Bletchley to Bedford November 2006.
Wherry Lines: Norwich to Yarmouth & Lowestoft - via Berney Arms & Acle January 2007 (two services)
Clitheroe Line: Manchester to Clitheroe March 2007.
Medway Valley Line: Paddock Wood to Strood September 2007
Severn Beach Line: Bristol Temple Meads - Severn Beach April 2008.
North Staffordshire Line: Crewe - Derby via Stoke - on -Trent November 2008.
Cumbrian Coast Line: Carlisle to Barrow-in-Furness September 2009
Bishop Line: Darlington - Bishop Auckland January 2011
This latest designation will be officially announced at the seventh national 'Community Rail Awards' which will be hosted by the Association of Community Rail Partnerships on 23 September 2011 in Sheffield.
Rail media enquiries
Media enquiries 020 7944 3021
Out of hours media enquiries 020 7944 4292
Switchboard 0300 330 3000
Published 22 September 2011