Community Covenant Grant scheme launched
Up to £30m over four financial years has been set aside to help communities undertake projects that promote greater understanding between the…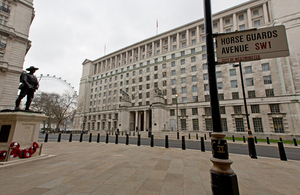 Up to £30m over four financial years has been set aside to help communities undertake projects that promote greater understanding between the military and civilian populations.
The grant scheme will consider applications for funding between £100 and £250,000, to be spent on projects which promote closer ties with, or a greater understanding of, the military in the local community. Examples could be:
• a public exhibition showing recent activity of the local Armed Forces unit, such as a tour in Afghanistan
• one-off activities such as an activity camp involving the Armed Forces and young people
• a community outreach project that brings together veterans with their non-Service equivalents to highlight what support is available to them in their local community.
The scheme follows the publication in May this year of the Armed Forces Covenant which, amongst other things, aims to improve the support available for serving personnel, their families and veterans.
Community Covenants have also been established in Oxfordshire, the Vale of Glamorgan, Hampshire, North Yorkshire and Doncaster.
Minister for Defence Personnel, Welfare and Veterans, Andrew Robathan, said:
We are committed to ensuring that our Armed Forces, veterans and their families have the support they need and are treated with the dignity they deserve. The Community Covenant will help cement that support at a local level across the UK.

The Armed Forces Family already enjoys a good rapport with their civilian counterparts, and projects funded by the grant scheme will build even closer ties in both communities. The grant scheme will provide funding to foster this support.
Applications for the community grant should show that there is a demonstrable benefit to both the Armed Forces and the civilian community and the MOD will only pay one-off project costs.
Bids can only be submitted from areas which already have a Community Covenant in place. Guidance on how to establish a Community Covenant and application forms can be found on the Covenant page of the MOD website. **See Related Links.
**Where a Community Covenant is in place, the Armed Forces and Local Authority signatories to this document will consider the bids in the first instance. Endorsed bids will then be considered by a MOD panel which will also include representation from HM Treasury and subject matter experts as required.
The deadline for the first round of applications is 30 September 2011, and subsequent deadlines will be published on the MOD website.
For the financial year 2011-12 the panel will meet in October and December 2011 and March 2012. Thereafter each panel will meet quarterly.