Communities Secretary Eric Pickles sees ongoing restoration work at Auschwitz-Birkenau
Communities Secretary Eric Pickles has spoken of the profound and moving experience of visiting Auschwitz-Birkenau.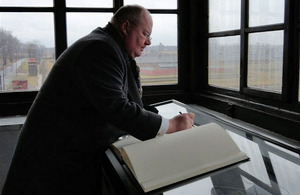 His visit was to see the essential conservation work being carried out by the Auschwitz-Birkenau Foundation to preserve and maintain the former concentration camp as an important memorial to educate future generations of the tragedy of the Holocaust.
On his visit, the Secretary of State was joined by Piotr Cywinski, Director of the Auschwitz-Birkenau Museum and Jacek Kastelaniec, General Director of the Foundation and who explained how worldwide contributions - including £2.1 million of British government funding, primarily from the Department for Communities and Local Government and the Foreign and Commonwealth Office - were helping to safeguard the remains of the camp and ensure its long-term preservation.
The memorial covers almost 200 hectares of grounds, 155 buildings, and 300 ruins, including the ruins of the gas chambers and crematoria, as well as a permanent exhibition of over 100,000 personal items belonging to those murdered, archived documents, and the works of art made by prisoners.
Communities Secretary Eric Pickles said;
"Visiting Auschwitz has been a profound and moving experience. The buildings here are not just the historical remains of 1 of the darkest chapters in history. They go far beyond bricks and mortar. They are perpetual reminder of the pain and destructive force of hate.
"It is our collective responsibility to ensure Auschwitz-Birkenau continues to stand as a centre of education, ensuring that the lessons of the Holocaust are taught today and to future generations. I have huge respect for the museum and the Auschwitz-Birkenau Foundation and its vital work in maintaining and restoring the memorial site."
While in Krakow the Secretary of State also visited the Jewish Community Centre which was built and fully funded by the UK based international charity World Jewish Relief. 
Opened in April 2008, by His Royal Highness The Prince of Wales and The Duchess of Cornwall, the centre is now a focus for Krakow's Jewish Community to come together for social, educational and religious programmes. Following a meeting with the Centre's Director Jonathan Ornstein, Mr Pickles spent time with those who work, volunteer and benefit from the Centre. Among those he met were Zofia Radzikowska, a 76 year old Holocaust survivor studying Hebrew and Spanish who also visits the Senior Club every day.
Published 13 December 2011