News story
Communities ministers wish the Jewish community a happy Chanukah
The Secretary of State and Minister for Faith and Communities send a message of good wishes for the Jewish holiday.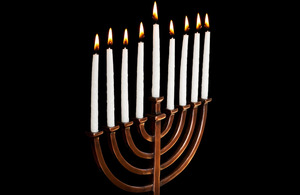 Communities Secretary Eric Pickles said:
"I want to take this opportunity to recognise the huge contribution the Jewish community has made, and continues to make, towards British society and culture. We have seen some marvellous examples of this throughout the year such as Barnet and District Synagogue joining a food collection with their local church as part of 'A Year of Service'. The annual triumph of 'Mitzvah Day' has also seen thousands of people across the globe volunteer - from improving the local environment, working with the homeless or visiting care homes - these activities have all made a real difference to their communities.
"I saw this first hand when I recently attended a multi-faith volunteering event organised by a local synagogue in St Albans. It was terrific to see how so many people gave their time to help the wider community, and come together with those of other faiths at the same time.
"I'd like to wish the whole Jewish community a very happy Chanukah."
Faith Minister Baroness Warsi said:
"As each candle is lit over the next eight nights during the Festival of Lights, I want to wish all Jewish communities a very happy and peaceful Chanukah.
"The lighting of the menorah candles remind us of the persistence of hope and endurance through difficult times and I want to acknowledge the role that the Jewish community play within our wider society. I work closely with many Jewish groups in my role as Minister for Faith and Communities and particularly enjoyed visiting a 'Mitzvah Mummies' event - a volunteering project where mothers and their babies visited residential care homes - earlier this month. It was wonderful to see the joy this brought the residents and it showed how faith can bring people together and have such a positive impact on the community.
"Happy holidays to you all."
Published 8 December 2012