News story
Communities ministers' Easter message 2013
Ministers reflect on the contribution that the church makes to our society as they wish Christians a very happy Easter.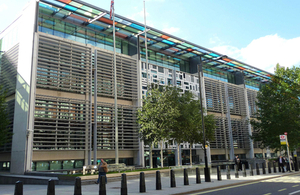 Communities Secretary Eric Pickles said:
"As Christians around the world celebrate the resurrection of Jesus Christ, I'd like to take a moment to reflect on the contribution that Christian churches and the wider community make to our society.
"Christian values have shaped our society and traditions for centuries and they remain at the heart of our communities as church volunteers dedicate many hours of their time providing selfless acts of kindness to help those in need throughout the year.
"This compassion and neighbourliness will, I'm sure, be very much in evidence this Easter weekend.
"I wish all Christians and communities who are celebrating with their friends, families and neighbours a very happy and peaceful Easter.
Faith Minister Baroness Warsi said:
"I want to send my best wishes to the many millions of people in Britain who are celebrating Easter.
"It seems very appropriate that, at this time of rebirth and new beginnings, both the Catholic Church and Anglican Church are celebrating new leaders: Pope Francis and Archbishop of Canterbury Justin Welby; I know, therefore, that this will be a particularly special Easter for many worshippers.
"This holiest of Christian festivals gives us the chance to reflect on the importance of faith in Britain. Our Christian past shines through our practices, traditions and communities today. But faith is about more than a spire on a landscape or a cross around a neck: its about the practical demonstration of one's beliefs. As I've always said, people who do God do good and we see proof of that every day.
"I know that, this Easter, many people will be thinking about fellow Christians who are unable to celebrate Easter without fear of suppression or terror, and about those of other faiths who are subjected to persecution. So we should let this Easter be a time to renew Britain's commitment to promoting the right to freedom of religion and belief across the world."
Published 29 March 2013