Communities Minister to attend Olympic football matches and see some of the key local growth projects in and around Manchester
Bob Neill, Olympics Legacy and Growth Minister, will visit Manchester on Thursday, 26 July to attend the two Olympic football preliminary matches…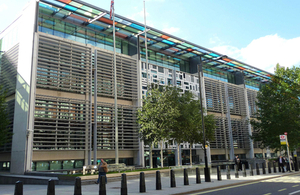 Bob Neill, Olympics Legacy and Growth Minister, will visit Manchester on Thursday, 26 July to attend the two Olympic football preliminary matches at Old Trafford.
This will include the Team GB men's first match against Senegal.
Mr Neill said:
It is fantastic that the Olympics are finally upon us and high profile events such as this Team GB football match are a fabulous way to kick things off - that this event is taking place in Manchester shows these really are a Great Britain-wide games.

It is projected that hosting the Olympic Football will generate an economic benefit of around £30 million for Greater Manchester. This will give the area a significant economic boost, and will leave a great Olympic legacy.

My visit has also provided a wonderful opportunity to see, first hand, some of the key local growth projects in and around Manchester. The Media Enterprise Centre and the Enterprise Zone at Manchester Airport are truly world class projects. And The National Football Museum has given me the chance to catch up on my football history before seeing team GB make football history tonight (whatever the result!). They will all have a significant positive impact on the local economy providing local jobs, supporting local enterprise and attracting businesses to the area.
There has been a huge effort from people across the UK to ensure that everything is ready for the Games, and Manchester has played a key role. These preliminary matches are a great chance to show off the North West and celebrate the role that people, places and businesses from the region are playing in London 2012. This marks the beginning of a very exciting Games period.
During his visit the Minister will also attend the Enterprise Zone at Manchester Airport and two local European Regional Development Fund projects, both of which are playing a significant role in supporting the local economy and encouraging growth. The recently opened National Football Museum, located in the city centre, is already attracting international acclaim and will draw visitors into the area from far and wide. And within a stone's throw of Old Trafford at MediaCity in Salford the Minister will be shown some of the cutting edge facilities and technologies at the Media Enterprise Centre, another ERDF funded project, which is aiming to stimulate and support the growth of the media technology sector within the North West of England.
Images
Published 25 July 2012