Communities Minister Andrew Stunell brings spending challenge to Woking
Andrew Stunell is taking the Spending Challenge to the streets, as he visits frontline workers in Woking to get their cash saving ideas.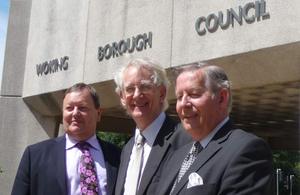 The minister will meet staff at a local community advice centre who advise residents on cutting energy consumption in their homes, schools and businesses.
He will also meet local council staff at the civic centre to hear their ideas for cutting back waste and making savings as part of a government wide promise to ask people and the public sector for their ideas.
The minister is keen to hear from frontline workers:
"Our coalition government is committed to listening to what people want. Whether that's removing bureaucracy to get things done at a local level, giving more power to councils, or getting better value for taxpayers' money.
"We have inherited a record debt, and we are committed to tackling it in a fair and responsible way. So we are speaking to people around the country to hear their ideas about how best to save money in our public sector.
"Frontline workers are perfectly placed to advise us on making backroom savings to protect the frontline services that people rely on."
Further information
The government Spending Challenge website is open for everyone to submit their money saving ideas.
This is the first of Andrew Stunell MP's visits to local areas to hear from frontline workers. The next visit will be to Liverpool on 23 July 2010.
More photographs of the visit are available from the DCLG Flickr channel
Published 19 July 2010