World news story
Communities in the Adjacency Zone receive nutritional support and agricultural training
The Ambassador of the United Kingdom in Guatemala, Carolyn Davidson, inspected a number of projects in Petén today that seek to improve the health and productive capabilities of the communities in the Adjacency Zone between Guatemala and Belize.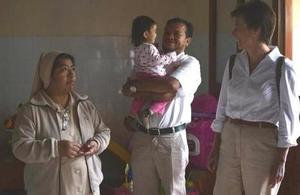 Ambassador Davidson travelled to the "Santa Luisa" Nutritional Recovery Centre located in the municipality of Dolores, which has recently doubled its capacity. Currently, the Centre can accommodate more than 40 children aged between 6 months and 5 years with chronic malnutrition problems coming from communities in the Adjacency Zone.
The monitoring and transfer of these cases is coordinated through an alliance with the Vice Ministry of Agriculture, the Ministry of Health and the Municipality of Dolores; all of which have also contributed to the strengthening of the Centre's capabilities. The administrators have managed to make the Centre self-sustainable through the sale of agricultural produce.
Afterwards, Ambassador Davidson visited the municipality of Poptún to see the "Casa de la Esperanza"; an educational project which focuses on providing education with a cultural relevance to more than 150 indigenous youth from communities located in the south of Petén. Participants learn to improve their living conditions through an initiative called the "Agro-Business School".
"Casa de la Esperanza" provides a formal level education, and trains students in the production of cocoa, cardamom and avocado, and the raising of birds, pigs and fish. In the future it is hoped that the sale of these products will be able to generate additional income.
In addition a meeting was held with the Coordination Council of the Intersectorial Group of Land and Environment (MITA) where the progress of the Seed Fund for various projects was discussed. The fund provides help to 13 communities located in the Adjacency Zone between Guatemala and Belize, improving the living conditions of more than 250 families, with financing from the United Kingdom and other strategic partners.
In the last year the British Government has invested more than Q400.000 in these projects in Petén with the support and implementation of local partners such as the Ministry of Agriculture, Asociación Balam, Asociación Visión Guatemala Futura, the Coordinator of Agricultural Associations of Petén (COACAP), the Intersectorial Group of Land and Environment (MITA) and the municipal mayors that make up the Commonwealth of Municipalities of southern Petén (MANMUNISURP).
Published 18 January 2018