Communities are getting behind Armed Forces Covenant
Communities across the country are getting behind the Armed Forces Covenant to improve the lives of Service personnel and their families.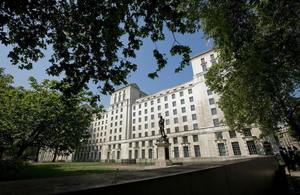 Over 80 local authorities across the UK have pledged their support to the Armed Forces and signed up to a Community Covenant, with another 50 ready to sign up soon.
27 of these communities have applied for a grant to kick-start initiatives that will make a real difference to our Armed Forces and their families locally.
Some £3m has been allocated to around 60 individual projects which include Service personnel helping out the elderly in their community, more support for Service families, and fun days out for Service children.
The Armed Forces Covenant, published by the Government in 2011, committed to setting up a Community Covenant Grant. Local communities and individuals have been coming forward with their ideas ever since.
Examples of some of the local initiatives underway across the country include:
• fun days out for Service families in Oxfordshire
• adventure and sailing weeks for Service children in Hampshire
• a new play park for the residents of Carver Barracks and the local community in Essex
• serving and ex-Service personnel helping the disabled and elderly in Wiltshire
• mentors for Service personnel and veterans who want to set up their own businesses in Hampshire, and
• support for Service families dealing with long periods of separation in Somerset.
Defence Secretary Philip Hammond said:
The Community Covenant Grant Scheme has made an excellent start, and I hope even more local groups and individuals come forward with good ideas and initiatives.

Our Armed Forces have a unique place in society and we all owe them a huge debt of gratitude, so it's great to see local initiatives in place that will bring greater understanding between the Armed Forces and their local communities.
The Armed Forces Covenant is a statement of the moral obligation which exists between the Nation, the Government and the Armed Forces.
The Government has already taken swift action to improve the lives of Service personnel, veterans and their families. This includes:
• a £15m investment in prosthetics provision
• improvements to mental healthcare
• a scholarship scheme for bereaved Service children
• priority on the Government's First Buy scheme for members of the Armed Forces in England
• doubling Council Tax Relief twice, which now stands at nearly £600 per Service person for a six-month deployment
• doubling the tax-free Operational Allowance so those serving on eligible operations now receive a lump sum of just over £5,000 for a six-month tour, and
• new online postcodes to ensure Service personnel stationed overseas have improved access to online and financial services.
See Related Links for more information on the Armed Forces Covenant and the Community Covenant Grant Scheme.
Please tell us what you think about government news on the web by filling in the short survey at Related Links.
Published 25 June 2012