Press release
Commonwealth Week concludes with lectures at University Brunei Darussalam by eminent speakers from the Association of Commonwealth Universities
On 16 March Universiti Brunei Darussalam welcomed Professor Sir David King and Professor John Wood as part of its 'Eminent Speakers series'.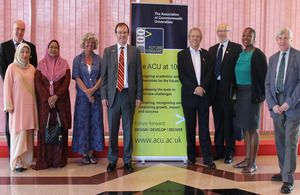 Professor Sir David King is the former Chief UK Scientific Advisor and Professor John Wood is the Secretary-General of the Association of Commonwealth Universities. Both speakers addressed issues high on the agenda of Brunei and the Commonwealth, during an event chaired by Dr Jainatul Halida binti Jaidin of UBD at the Institute for Leadership, Innovation and Advancement. Professors King and Wood are in the country to mark ACU's Centenary.
The Association of Commonwealth Universities is the world's first and oldest international university network, established in 1913. A UK-registered charity, the ACU has over 500 member institutions in developed and developing countries across the Commonwealth. Drawing on the collective experience and expertise of their membership, the ACU seeks to address issues in international higher education through a range of projects, networks, and events. ACU's mission is to promote and support excellence in higher education for the benefit of individuals and societies throughout the Commonwealth and beyond.
British High Commissioner Rob Fenn said:
Even by the high standard of UBD's Eminent Speaker series, this was an exceptional occasion. Both British speakers are leaders in their fields; and both their fields are at the forefront of national debate in Brunei. Only the Association of Commonwealth Universities could have accomplished this, drawing on its long history and unique ability to forge connections between its members. This event and the associated meetings which our visitors have had in Brunei will take the relationship between ACU and Brunei to a whole new level. I am grateful to UBD and ACU for helping to provide such a fitting climax to Commonwealth Week in Brunei.
Sir David King's ACU Centenary Lecture was entitled "Creating a Full Spectrum Energy Country", and looked at 'the role of universities, researchers and government in shaping a country's desire to balance its eco-credential in energy production'. The growth of the 'middle class' creates pressure not only on higher education, but also on energy and the environment. The need for universities to train flexibly thinking people, and to look for equitable solutions to the challenges facing the world, is immediate and essential. Researchers, together with universities and governments, need to change their focus and seek practical solutions to these problems in order to create a sustainable future. In order for countries to achieve sustainable economic growth, more will need to be done to support knowledge and to manage key resources, energy and climate change.
Professor John Wood's talk focused on the 'challenges of institutional character for 21st century universities' focusing on what universities need to do to ensure that they stay relevant. In addition to immediacy, most universities are under pressure – both politically and socially - to expand significantly, either in terms of student numbers, or by increasing their so-called 'relevance' in areas such as research and innovation, or 'social impact' through community and industry engagement. Increasingly, output metrics are cited to show the superiority of one university over another.
Published 18 March 2013