World news story
Commonwealth Day in Bermuda
Governor John Rankin reflects on this year's theme of a "Peacebuilding Commonwealth".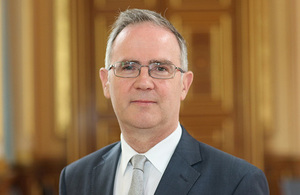 Today is Commonwealth Day, a moment when the UK and other Commonwealth countries around the world celebrate this unique organisation. Bermuda although not a member-state is very much part of the Commonwealth family through the UK's association. And as such Bermudians can be proud of their contribution to the Commonwealth whether through democracy, the rule of law, sport, education, culture and the promotion of peace and security around the world.
The UK itself strongly values its membership of the Commonwealth and is committed to working with all Commonwealth partners to strengthen the organisation's focus on promoting democratic values and development.
A Peace-Building Commonwealth
Commonwealth Day is an opportunity for individuals, communities and organisations to promote the Commonwealth's shared values of peace, democracy and equality, and to celebrate the association's rich diversity.
This year's theme is " A Peacebuilding Commonwealth" and naturally follows-on from last year's theme to support "an Inclusive Commonwealth". It reaffirms the Commonwealth Charter principle that international peace and security, sustainable economic growth and development, the rule of law and clear transparent separation of powers are essential to the progress and prosperity of all.
Bermuda is an active participant in the Commonwealth family of nations. Bermudian parliamentarians are actively involved in the Commonwealth Parliamentary Association and support the role of the Judiciary in upholding justice, and the rule of law. Many servicemen and women of the Royal Bermuda Regiment have supported peacekeeping and peacebuilding work overseas such as in Sierra Leone and Grenada. In sport and culture Bermuda participates in its own right in the Commonwealth Games and we look forward to Bermuda's participation in Australia next year. In education many Bermudians have benefitted from the Commonwealth Scholarship Programme and have made a direct contribution back to their local communities. The Commonwealth Scholarship Programme is open to all and is an ideal platform to enhance local capacity and I would like to see more Bermudians apply in the future.
As members of the Commonwealth family we can find much to be thankful for. Through peacebuilding, consensus and cooperation great things can certainly be achieved.
Link to The Commonwealth
Link to the Commonwealth Scholarship Programme