Commonwealth contribution to First World War to be commemorated
Baroness Warsi announces flagship programme on Commonwealth contribution to First World War.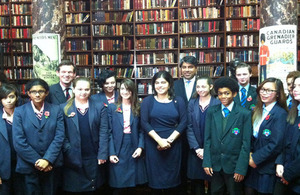 Baroness Warsi has today (8 November 2013) launched a flagship programme, as part of the government's centenary commemorations, which reveals the crucial contribution of the Commonwealth countries during the First World War.
In an event at the Royal United Services Institute (RUSI) in Whitehall, the Faith and Communities Minister will kick off a series of multimedia presentations that highlight the role played and sacrifices made by soldiers from Africa, Australia, India, the West Indies and beyond.
The lectures will explore the stories and bravery of soldiers such as Khudadad Khan - a Muslim soldier who was the first non-British individual to be awarded the Victoria Cross, Walter Tull - the first black British officer, and George Blackman from Barbados - the last survivor from the West Indies who served in the First World War and who passed away in 2003 aged 106.
These are just a few examples of hundred of soldiers who fought thousands of miles from their homeland, for a country they had never been to - but who came together for a common purpose and who were fundamental to sustaining the war effort.
The lectures will be delivered by ex-army personnel, academics and community figures and will enable people of all ages, backgrounds and ethnicities to learn more about this shared part of our history. Afterwards, participants will be encouraged to research the contribution of their own families and communities and the connections they had with this piece of history.
The project is run by ex-army officers' organisation, Curzon Education, and will be run in schools, colleges, places of worship, army regiments and community organisations across the country in the run-up to the First World War centenary in 2014.
Speaking in a video message at the event, Prime Minister David Cameron said that the lectures are vital in ensuring Britain's commemorations are fitting, meaningful and far-reaching.
The Prime Minister said:
In battlefields across the world today are the graves of people of all faiths and people of no faith, side by side. They fought together, they fell together, and together they defended the freedoms we enjoy today.

That sends out a powerful message: that this was a truly global war, one which pulled in people from every corner of the earth. That, in the gravest, grimmest situations, people of all backgrounds can unite in the name of a common cause.
Faith and Communities Minister Baroness Warsi said:
Our boys were not just Tommies – they were Tariqs and Tajinders too. They came from many nations and held many different faiths.

For too long this has been overlooked, like a chapter being torn from the book of our history. The forthcoming centenary gives us the perfect opportunity to right this wrong - to commemorate the courage, co-existence and comradeship demonstrated during that bloody conflict.
Culture Secretary, Maria Miller, who leads the government's programme for marking the centenary of the First World War said:
The selfless loyalty and heroism of those from what later became the Commonwealth who fought shoulder to shoulder with us during the First World War is too often neglected. These lectures - and the debate they will doubtless inspire - will help put this right.

The project is headed by Captain Retired Afzal Amin and Major Retired Hugo Clarke and supported by General Retired Sir David Richards - former Chief of the Defence Staff. They have lined up a series of diverse speakers to deliver the lectures between November and March. In addition to the series of lectures, they will produce educational material and a website where stories and histories can be recorded and shared.
Further information
One and a half million volunteers from India came forward and of these, 140,000 troops saw active service on the Western Front.
Participants from the Indian subcontinent won 13,000 medals, including 12 Victoria Crosses, for their actions during WW1.
15,000 soldiers from the West Indies Regiment saw action in France, Palestine, Egypt and Italy during the First World War - 2,500 of them were killed or wounded. Men from the West Indies won 81 medals for bravery, whilst 49 were mentioned in despatches.
55,000 men from Africa fought for the British during the First World War and hundreds of thousands of others carried out the vital roles of carriers or auxiliaries. They came from Nigeria, the Gambia, Rhodesia (now Zimbabwe), South Africa, Sierra Leone, Uganda, Nyasaland (now Malawi), Kenya and the Gold Coast (now Ghana). It is estimated that 10,000 Africans were killed. African troops were awarded 166 decorations for bravery.
There were close to 80 British Dominions that fought in the First World War. Many soldiers were from undivided India (which today comprises of India, Pakistan, Bangladesh and Sri Lanka), Australia, New Zealand, Canada, Nepal and various different parts of Africa with a sizeable army from the Caribbean recruited into the British West Indies Regiment taking part on the Western Front and in the Middle East.
Over 1,000,000 men from ethnic minorities served in the First World War.
Baroness Warsi visited the Belgian battlefields in April 2013 to pay tribute to Commonwealth soldiers of different faiths who lost their lives during the war.
More information on government plans for the First World War Centenary.
Published 8 November 2013