Commodore Royal Fleet Auxiliary visits RFA Lyme Bay in Bahrain
RFA Lyme Bay, currently operating in support of four minehunters based in Bahrain, was recently visited by the head of the Royal Fleet Auxiliary.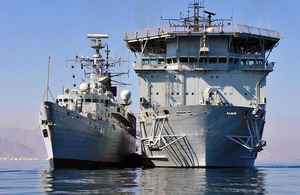 Commodore Bill Walworth's visit to the Gulf state served to underline the importance of the RFA to Royal Navy and coalition operations in the Gulf.
It was also an opportunity for him to personally thank some of his staff for their efforts in a busy and operationally-demanding environment and to send them season's greetings.
With a large flight deck, an internal dock and spacious accommodation, RFA Lyme Bay, which also serves as a floating headquarters for the Commander UK Mine Countermeasures Force and his small battle staff, is ideally placed to deliver a range of command and support functions.
Commodore Walworth met members of the ship's crew, together with the embarked Royal Navy force protection team and mine warfare specialists. He also held discussions with the United Kingdom Maritime Component Commander, Commodore Tim Fraser.
Speaking after the visit, Commodore Walworth said:
RFA Lyme Bay's work with the UK and US mine countermeasures forces in the Gulf is an obvious example of how the Royal Fleet Auxiliary is contributing directly to front line operations.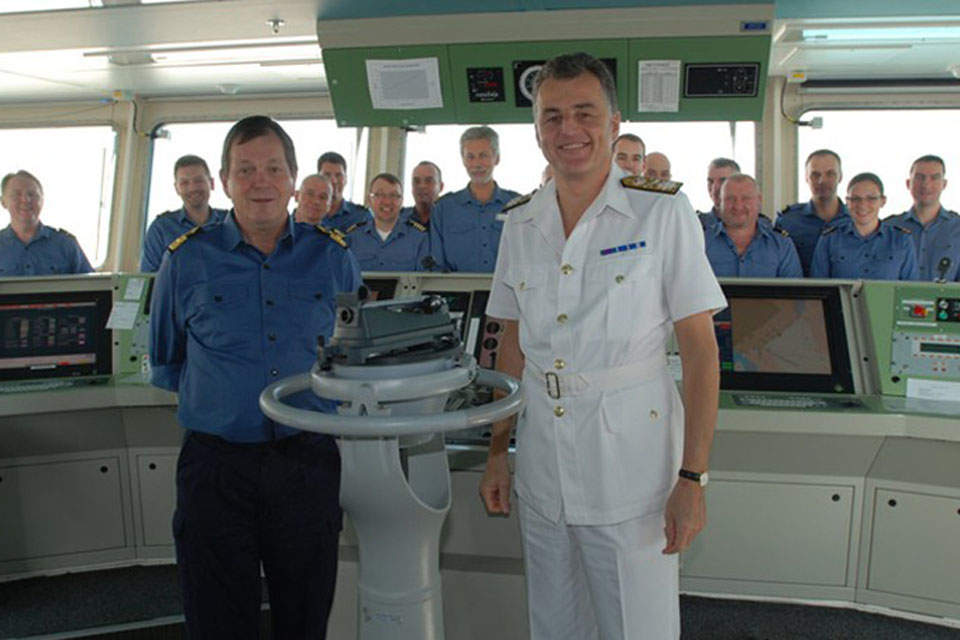 "Other RFA vessels in this region have been used to undertake anti-piracy patrols, provide a base for the training of the Iraqi Navy and assist maritime security operations, and, of course, our traditional role of providing fuel and other essential supplies."
Commodore Fraser added:
The Middle East maritime domain stands as one of the most important areas of operation for the UK Armed Forces. The support provided by the Royal Fleet Auxiliary allows our ships to remain on station for extended durations away from base support. RFA ships have also participated in operations. For all these reasons, the RFA is very much a core component of the naval service.
In addition to Lyme Bay, there were three other RFA vessels in the Middle East over the Christmas period. One of the longest serving vessels in the flotilla, RFA Bayleaf, acts as the Gulf's 'Ready Tanker', supporting Royal Navy and coalition warships in the strategically-important waterway.
RFA Fort Victoria has just completed a period of counter-piracy operations alongside international navies in the Somali Basin. During this time she played host to a detachment from the Fleet Protection Group Royal Marines, together with a Merlin helicopter from 820 Naval Air Squadron and an 18-man medical team. The multi-role replenishment vessel was instrumental in intercepting a number of suspected pirates.
Forward Repair Ship RFA Diligence continues to provide maintenance support to Royal Navy assets in the region. She has also spent time assigned to Combined Task Force 150, a multinational counter-terrorism and maritime security mission. In this role Diligence contributed to the surveillance of various vessels of interest and undertook boarding exercises with warships from France, Pakistan and the United States.
Finally, no overview of RFA operations in the Gulf would be complete without including RFA Cardigan Bay. She began her journey back to the UK earlier this month after spending over three years deployed in the Gulf.
She has been supporting the development and training of the fledgling Iraqi Navy as well as providing support to UK and US Navy units. Her versatility made her an ideal base for Iraqi Navy and Marines personnel as they were trained in tactical operations and basic seafaring. She has also routinely hosted the US Navy's Maritime Expeditionary Security Force and their Cougar patrol craft. In addition, the ship acted as the afloat forward support base for all stores, mail and personnel transiting in and out of theatre and she became the venue of choice for visiting VIPs.
With HM Ships Cumberland and Cornwall recently taking up duties in the region - and HMS Iron Duke set to arrive shortly - the Royal Fleet Auxiliary will continue to be called upon by the Royal Navy east of Suez throughout 2011 and beyond.
Published 17 January 2011