World news story
Committed to Building Long Term Partnerships With the Emerging Powers of Central Asia
Baroness Warsi, Senior UK Minister for relations with Central Asia concludes her visit to Tajikistan.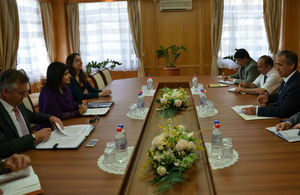 Baroness Warsi held a series of high-level meetings with Tajik government representatives, including President Emomali Rahmon, Minister for Foreign Affairs Hamrokhon Zarifi and Minister for Trade and Economic Development Sharif Rahimzoda. Throughout these meetings, the Minister discussed regional security, the Tajik Government's progress in implementing political and economic reforms and how the UK is developing commercial links with Tajikistan.
Baroness Warsi also held roundtable events with leading business and investment figures as well as representatives of civil society and non-governmental organisations. Issues covered included British trade and investment with Tajikistan, the upcoming presidential elections, human rights, the rule of law, and international values.
This was Baroness Warsi's first visit to Tajikistan and further reinforced the deepening bilateral relationship between the two countries.
Speaking at the end of her visit, Baroness Warsi said:
I am delighted to have had the opportunity to visit Tajikistan. The British Government is committed to building long terms partnerships with the emerging powers of Central Asia. During my meetings, I have heard about the progress Tajikistan is making in its reform processes, as well as the business opportunities opening up for the country in a large range of sectors such as financial services, education and tourism. I have also heard about the challenges facing Tajikistan in the future, particularly on securing stability in Central Asia in 2014 and beyond. The British Government is committed to working with Tajikistan on these challenges as well as these opportunities, and I look forward to visiting Tajikistan in the future to see the results our cooperation has delivered.
Published 6 September 2013