News story
Commissioning Academy helps to improve public service provision
The Cabinet Office is expanding its successful Academy that helps the public sector develop the right commissioning skills for the future.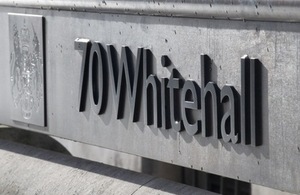 The Commissioning Academy is open to all public sector commissioning organisations. It helps commissioners develop the practical skills and judgment to design different ways to provide services and manage new markets.
In the last year there was a 50% increase in demand for places on the programme among commissioning professionals. We are doubling the size of the programme to meet an ambitious target of 1,500 participants by 2016.
We also plan to develop the network of local commissioning academies. After a highly successful pilot programme in Norfolk, participants were so impressed that they worked with us to set up their own academy.
The Commissioning Academy is open for applications for future cohorts – by 9 September for the October programme. Contact us if you think that your organisation would benefit.
The Local Government Information Unit carried out independent research on the impact of the Academy. It found that:
71.9% of survey respondents felt their involvement in the programme was already having a tangible impact and they were confident it would lead to a positive outcome for citizens
Academy graduates feel more confident and inspired to try new approaches and think about how they commission differently
So far, more than 250 commissioners from a wide range of central and local government sectors have been through the Academy programme. Another 250 are expected to have participated by the end of 2014.
Francis Maude, Minister for the Cabinet Office said:
Our pioneering commissioning academy is helping build commercial skills across the public sector – that's part of this government's long-term plan for a stronger economy. This academy has become a 'must attend' programme with participants telling us how it has helped transformed their thinking.

Strengthening commissioning skills will help save taxpayers' money, improve public services and ensure the most innovative and impressive suppliers – whether they are SMEs, voluntary organisations or larger, established companies – are able to win business from us.
Tim Eyres, a Commissioning Academy participant from Norfolk County Council, said:
Following attendance on the Academy, we co-located our commissioning and commercial teams to form a 'commissioning hub'. Adults and Children's Services co-commissioned our family intervention project from the hub. Bringing the 2 elements together made it a simpler, more streamlined process for procurement elements and from the providers' perspective, allowing them to integrate their delivery more fully. This has been achieved with approximately a 15% reduction in the overall budget while minimising the impact for families and service users.
Published 7 August 2014
Last updated 8 August 2014
+ show all updates
Added a link to the Local Government Information Unit research report.
First published.