World news story
Commemoration on the island of Vis for Brits who died in WWII
British WWII veterans, now in their 90s, commemorate fallen comrades on the Croatian island of Vis.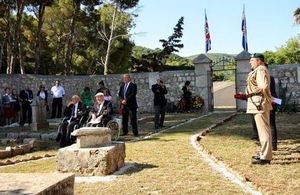 A group of British Second World War veterans have reunited on the Croatian island of Vis, as they do every year. The three of them, now in their 90s, are some of the last survivors of an Allied Combined Garnison of Royal Navy, Commandos and RAF personnel first stationed here in 1944. At the time, the island was one of the most important outposts of the Adriatic WWII campaign.
The British veterans have been returning annually to Vis for more than 30 years to remember their fallen comrades. Remembrance service was conducted at the British cemetery on Vis, the RAF memorial, the Freedom Fighters memorial and the Coastal Forces memorial on the jetty at Komiža.
UK Embassy Chargé d'Affaires Ian Cliff, who joined the veterans for the commemoration, said:
This is an Important commemoration event and a sign of excellent cooperation between people of the United Kingdom and Croatia.

We are particularly delighted with the fact that three veterans were able to come. We are also grateful to the town council of Vis and Komiza and Croatian MOD for all their support.
One of the veterans, Reg Ellis, expressed particular gratitude to the people of Vis and the British Embassy for their support and the warmth of their hospitality.
The veterans were joined by the mayors of Vis and Komiža, representatives from the Croatian Ministry of Defence, the Croatian Navy and the British Embassy Zagreb.
In 2011, The Telegraph wrote about the Winston Churchill's decision to send a detachment, led by Royal Marines, to the Croatian island:
Vis was the hideout of Josep Broz Tito – the Yugoslav Partisan leader and later the country's communist president – and the stationing of a small British combined force from 1943 transformed it into one of the most important outposts of the war. With Marshal Tito camped in mountain caves, Winston Churchill decided to send a detachment to what is now Croatia, led by Royal Marines, to assist the partisans' mainland raids. The commitment quickly expanded, with the Royal Navy sending Motor Torpedo Boats to attack German supply ships and the RAF launching air raids. Churchill's decision to assist Yugoslavia's communist-backed partisans rather than the exiled royalists was controversial, even to Sir Fitzroy Maclean, the Special Operations Executive chief liaison officer. The prime minister refused to back down, saying:
What interests us is, which of them is doing most harm to the Germans.
Published 27 May 2015