World news story
Commemoration of sailors fallen in attack on HMS Dragon in 1919
On 17 October a ceremony to commemorate fallen British, French and Irish sailors who participated in Latvia's war of Liberation in 1919 took place.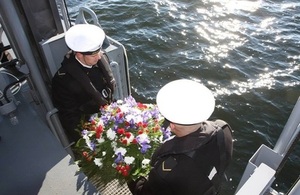 Latvia's Minister of Defence Raimonds Vejonis and Commander of Defence Forces Lt Gen Raimonds Graube expressed gratitude to British, French and Irish allies for taking part in the liberation fights crucial for Latvian independence. Relatives of the fallen soldiers participated in the commemoration ceremony part of which was wreath laying in the sea to honour the fallen sailors.
On 17 October in 1919 the British cruiser HMS Dragon which helped the Latvian army to protect Riga from West Russian Volunteer army was struck, and nine sailors lost their lives, but four were injured. The Western ally ships helped Latvian Army's fight for independence. Even though Latvia had declared independence in 1918, the battles for the territory continued until the summer of 1920. To commemorate the fallen, it has become a tradition to held a wreath laying ceremony in Bolderaja.
Published 22 October 2014