News story
Commander JFC commendations awarded to outstanding individuals
General Sir Chris Deverell, Commander Joint Forces Command (JFC), presented awards to 29 individuals at his official residence at Northwood Headquarters.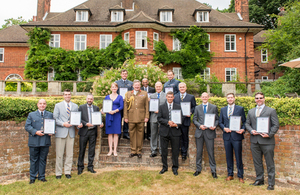 Commander Joint Forces Command Commendations were presented to individuals from across the Command in recognition of outstanding work in support of JFC and the wider Ministry of Defence (MOD).
General Deverell, was pleased to meet with recipients and their families and to offer his personal congratulations on their achievements. He said:
Joint Forces Command is full of bright, innovative and hardworking personnel. It is of particular importance to me that we recognise and celebrate their achievements. It was a pleasure to meet with some of these individuals today and also to thank their families who support them in the excellent work they do.

These individuals should serve as an inspiration to colleagues across the MOD and to the public. Their selfless dedication to duty is not only inspiring but plays a big part in protecting the national security of the UK. And we thank them for this.
Awards were given to teams as well as individuals from JFC in recognition for excellent work in a number of areas. This ranged from providing essential support to operations in the UK and the Middle East, working in support of community development and charity projects, and also in recognition of displays of exceptional courage in the line of duty.
Speaking about his commendation, Corporal Dean Cresswell from the British Army said:
Working at JFC was my most challenging but also my most rewarding posting to date. I am grateful for the recognition I have received for my work during this time and I feel honoured to be selected for this award.
Civil Servant, Rachel Spicer, said of her award win:
I am incredibly humbled to receive a Commander JFC Commendation for my role as Cyber & Influence Capability Planning Group Manager within JFC HQ.
Adding to this, Lieutenant Commander Craig Devlin from the Royal Navy said:
This award is recognition that innovation in the right environment can thrive and that procurement can be an agile process delivering at pace. I thoroughly enjoyed my time in JFC and feel privileged to receive this award.
The Royal Air Force's Sergeant Steven Peter Hollis said:
I am extremely honoured to receive this award. It was a pleasure to serve within JFC, working with personalities from across the three services. My role as a military skills instructor was very rewarding, ensuring personnel were prepared for operations.
The Commander JFC Commendations can be awarded to service personnel, civil servants and contracted staff from across the organisation. The winners of the Commander Joint Forces Command Commendations are:
Cdr Ian Peattie, Royal Navy, Standing Joint Force Headquarters

Capt Stephen Jenkins, French Navy, Combined Joint Expeditionary Force

WO1 Darren Lennon, Royal Navy, Permanent Joint Headquarters

WO2 John Heriot, Royal Navy, JFC C4 Intelligence, Surveillance and Reconnaissance

WO2 Matthew Arthur, Royal Army Physical Training Corp, Defence Medical Rehabilitation Centre

Lt Col Douglas Cochran, Royal Regiment of Scotland, Joint Information Activities Group

Cpl Dean Cresswell, Intelligence Corps, Permanent Joint Headquarters

Maj Wayne Fielding, Royal Logistics Corps, Northwood HQ

Bdr Simon Hall, Royal Regiment of Artillery, Standing Joint Force Headquarters

Maj Christopher Hartley, Royal Corps of Signals, Global operations Security Control Centre

Maj David Hollis, Princess of Wales Royal Regiment (PWRR), Officer Commanding Headquarters Company 2 PWRR

Maj Frederick McNair, Royal Regiment of Scotland, Joint Force Development

WO2 Simon Mortiboy, Royal logistics Corps, Defence Academy

Cpl Thomas Oldnall, Intelligence Corps, British Forces Cyprus

Maj Benjamin Sawyer, Royal Logistics Corps, Joint Forces Command Capability

Sgt Andros Adamou, Police, Community Police Sergeant

Sqn Ldr Hayley Adamson, Royal Air Force, Joint Expeditionary Force

Flt Lt Lee Ashcroft, Royal Air Force, Joint Movements Squadron

Sgt Edward Coleridge, Royal Air Force, Joint Movements Squadron

Sgt Steven Hollis, Royal Air Force, European Joint Support Unit

Sqn Ldr Julian Park, Royal Air Force, Permanent Joint Headquarters

Paula Banthrope, Joint Forces Command HQ

Rev Clive Larrett, Joint Intelligence Training Group

Alfred Rouse, Capability Special Projects

Rachel Spicer, Joint Forces Command HQ

John Strange, Technical Surveillance Countermeasures Practitioner

Crossbow Wyton Team, Team Award, Defence Intelligence

Joint Warfare Exercise Branch, Team Award, Joint Warfare

Non Standard Services Requirement Tiger Team, Team Award, Information Services & Systems
Published 20 July 2018