Commander-in-Chief visits Royal Navy personnel in Helmand
Commander-in-Chief Fleet of the Royal Navy, Admiral Sir Trevor Soar, visited Afghanistan this week to see the work that Royal Navy and Royal Marines personnel are doing in Helmand province.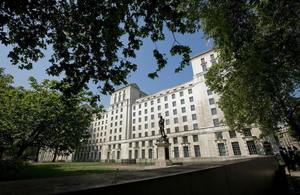 Admiral Soar was accompanied by the newly-appointed Second Sea Lord, Rear Admiral Charles Montgomery, and the Commandant General of the Royal Marines, Major General Buster Howes.
They began their visit in Camp Bastion where they were shown around the busy hospital. Admiral Soar met Royal Navy medical staff and praised and thanked them for all their hard work. Major General Howes took the opportunity to visit injured Royal Marines.
The party were then escorted to the headquarters of the Joint Helicopter Force in Camp Bastion where Admiral Soar addressed the assembled troops. He said:
On behalf of the Navy, I just want to thank you. Your efforts are appreciated and the wider MOD is clearly aware of the contribution you make.
On leaving Camp Bastion, the three men flew by helicopter to the Task Force Helmand headquarters at Lashkar Gah where they were met by the Commander of 4th Mechanized Brigade, Brigadier Richard Felton, who gave them an update on the situation in Helmand province.
After this, they boarded a Chinook helicopter and flew to Sangin, where 40 Commando Royal Marines are based during Operation HERRICK 12. They were met by the Commanding Officer of 40 Commando Group, Lieutenant Colonel Paul James.
The guests donned body armour and protective clothing before being guided through Forward Operating Base Jackson to the Fire Support Group tower. From this elevated position the party could view all of the surrounding area and received a detailed ground brief from Lt Col James.
Once this was completed, Major Ed Moorhouse, the Officer Commanding Charlie Company, demonstrated some of the latest kit being used in Afghanistan. This included new sharpshooter rifles and sniper rifles. Admiral Soar was extremely keen to know what the Marines thought of this new kit and the resounding response was that it was excellent.
Admiral Soar, Rear Admiral Montgomery and Major General Howes were then introduced to Sangin's District Governor, Mohammad Sherrif, the new Chief of Police, Lieutenant Colonel Ghulie Khan, and the Commander of the resident Afghan National Army Kandak, Lieutenant Colonel Wadood.
A final road move in Mastiff and Jackal vehicles to Forward Operating Base Nolay enabled the group to meet with Officer Commanding Alpha Company, Major Sean Brady, and his team before flying out of Nolay to conclude the visit.
Lt Col Paul James, Commanding Officer, 40 Commando Royal Marines, said:
It was a privilege having Admiral Soar, Rear Admiral Montgomery and Major General Howes visit us here on the front line in Sangin to see what all the Royal Marines and Royal Navy personnel are up to. They were very supportive and eager to talk to the troops about their experiences.
Published 3 June 2010