Commander-in-Chief visits new RAF intelligence aircraft training programme
The second-highest-ranking Royal Air Force officer has visited British personnel who are being trained in America to use the Rivet Joint aircraft - the RAF's new airborne signals intelligence aircraft.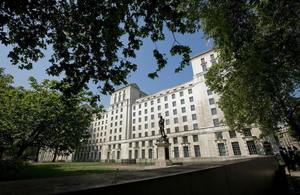 Air Chief Marshal Sir Simon Bryant, Commander-in-Chief of Air Command, visited Offutt Air Force Base in Nebraska to get a closer look at how the US Air Force's 55th Wing is providing RC-135/Rivet Joint initial qualification training to RAF personnel.
During his visit, Air Chief Marshal Bryant received an in-depth aircraft tour, met more than 25 RAF personnel, and saw first-hand how they are being trained on the Rivet Joint aircraft.
On 19 March 2010, the MOD signed a bilateral agreement with the US Government to procure three Rivet Joint aircraft and associated training and ground systems, known collectively within the UK as Airseeker, to replace the Nimrod R1 aircraft.
Airseeker is scheduled to enter service in 2014 but before then the UK's airborne signals intelligence capability is being sustained by a co-manning agreement under which UK personnel commenced deployed operations with US Air Force (USAF) colleagues on Rivet Joint aircraft in June 2011.
Air Chief Marshal Bryant said:
I had a fantastic visit. We really do feel part of the team.
The RAF expects to buy three Rivet Joint aircraft over the next seven years, with delivery of the first due in late 2013.
Air Chief Marshal Bryant added:
Seeing the training first-hand leaves me very, very excited and I can't wait for 2013.
The 55th Wing started training the British RAF personnel in January, with more than 60 having completed the programme so far. After graduating, the RAF personnel are allowed to fly on US Rivet Joint aircraft until the UK's RC-135 fleet reaches full operational capability.
So far, more than 20 aircrew have flown missions alongside members of the 'Fightin' Fifty-Fifth'.
The USAF 55th Wing Commander, Brigadier General Donald Bacon, said:
It's great to have this RC-135 partnership with our best allies. We've learned a lot working with them and so it's been a mutually beneficial relationship.
RAF personnel currently on the training programme were pleased to meet their Commander-in-Chief face-to-face and talk about Rivet Joint's capabilities.
RAF Sergeant Mark Rushforth, who is going through RC-135 maintenance training with the 55th Aircraft Maintenance Squadron, said:
It was a great morale-boost. It was also a good opportunity to voice any concerns we had in regards to our training or welfare and also to tell him how accommodating everyone has been here.
Air Chief Marshal Bryant is responsible for generating all RAF air power, for developing capabilities, and for achieving precise campaign effects across the spectrum of operations, whenever and wherever they are required by the UK.
He said throughout his career he's enjoyed his time working with the US and this joint venture is very exciting for everyone involved.
He added:
The US military has always been the most fantastic and generous of professional teammates, but it's been even more evident over the past 20 years or so since we've been conducting operations together in various locations around the world.
Brigadier General Bacon said:
The RAF have been wonderful hosts to us in the UK for decades and we at Offutt feel blessed to return some of that hospitality back to our great friends.
The 55th Wing expects to continue training RAF personnel through to 2013.
Published 13 December 2011