Commander briefs Royal Marines' families ahead of Helmand deployment
Families and friends of Royal Marines deploying to Afghanistan have been briefed on what to expect when they are separated for the duration of a six-month tour in the next few weeks.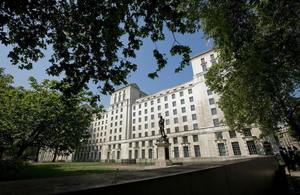 About 1,500 relatives and friends of Royal Marines from Plymouth-based 42 Commando were addressed this week by the Commanding Officer, Lieutenant Colonel Ewen Murchison, at the unit's base, Bickleigh Camp.
In what was the most comprehensive information-sharing exercise many veterans of Afghanistan can remember, Lt Col Murchison included details of where and why the Royal Marines were deploying, and how families qualified for benefits and the troops for extra pay.
He told them how well-trained and prepared his troops were for their mission and how to make contact with them once away from home.
Families are also offered support through welfare services such as the Naval Personal and Family Service and Royal Marines Welfare. The special day also featured a fun fair and static military and advice stands.
42 Commando are sending 650 personnel to Helmand in the next few weeks. They are just one element of 3 Commando Brigade which is deploying to Afghanistan for the third time.
Lt Col Murchison said the Family Day briefing satisfied a thirst for knowledge, unequalled in past years, about the details of the imminent tour and helped ensure as many people as possible were given details of welfare and support.
At the same time, he hoped the audience was reassured and given extra confidence their loved ones were as prepared, trained and equipped as possible and that he took responsibility for their well-being and safe return from the front line.
He acknowledged the trauma and stress the families and the marines would be under as a commanding officer and father:
As the Commanding Officer [CO] I take full responsibility for the well-being and operational effectiveness in theatre," he said. "It is proven that the more targeted and comprehensive the briefing of families, then the more focused and concentrated on the task and the safer the troops are in theatre.

As a father and husband with two boys I appreciate the need for information and I know the pressure the families left behind are under. I have been a Royal Marine for 19 years and my job as CO is the most rewarding of my career, but it also comes with the greatest pressure - and that is what I am trained for.

From my experience of operating in Afghanistan I can say there have been improvements in quality of protective kit and weapons and weapons systems. These improvements have come about through experience and analysis in Afghanistan.

There is also a comprehensive welfare and support network in the UK for the families - I hope this special event has been informative and reassuring.
Sergeant Rob Driscoll of 42 Commando joined his wife Carly and sons William, aged three, and Oliver, aged three months, at the Family Day. He said:
I have deployed several times with the Royal Marines and it is very different doing so while having to leave children behind than when I did not have children. This is when the family briefing is most valued and needed.

My family have found it very useful and it has worked in managing expectations about what happens out in theatre and what it might be like when we all come back, in terms of affecting the family routine.

My wife's mind has been put at rest in some respects. We have both been impressed by the amount and scope of the information. It is a daunting prospect for all young families to have the father deploy to a conflict zone. However, from the lads' point of view we have been training for so long we all just want to get out there.
Magdalena Dadas, the partner of Corporal Matthew Humpheries, attended the briefing. She said:
This was a very comprehensive briefing, it answered all my questions. It was important to be here to find out directly from the CO what will be expected from the men and what we should expect. We also meet other partners here and can share our experiences, which is most important for the partners with men going out for the first time.
She recommended the RN.com community website as a source of welfare and other information shared by the wider Royal Marines 'community'.
Published 11 March 2011