Press release
Colonsay rescue underlines importance of safety equipment
A fisherman has had a lucky escape after his boat sank off the island of Colonsay.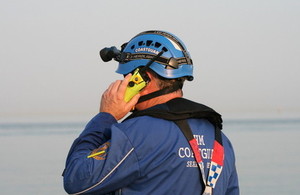 Belfast Coastguard received a 999 call from a member of the public at around 10.30am on Thursday 19 June 2014. They reported seeing a man waving for help on some rocks off Port Mor.
The fisherman, believed to be in his 70s, hadn't been spotted for some time. By the time rescue teams had lifted him to safety from the remote location, he had been on the rocks for more than two hours.
A Royal Navy search and rescue helicopter from Prestwick winched the man to safety, and the lifeboat from Islay also took part in the operation. A local fishing vessel, Pioneer, stood by and stayed in visual contact with the man until the rescue teams arrived.
It emerged that the fisherman wasn't wearing a life jacket and didn't have other basic safety equipment, such as distress flares or an EPIRB which would have speeded up the rescue.
Judith McNeice, Watch Manager at Belfast Coastguard, said:
It is clear that this gentleman had a very lucky escape and was able to swim to rocks after his boat was wrecked. As he lacked a life jacket or buoyancy aid it might have been quite a different story if his boat had sunk further from the rocks. The fact that he lacked equipment, such as distress flares or an EPIRB to summon help immediately, meant that he was marooned on the rocks for far longer than was necessary.
The fisherman's condition was reported as uninjured but very cold, and he was returned to his home by Colonsay Coastguard Rescue Officers.
Maritime and Coastguard Agency press office
Press enquiries 020381 72222 (Monday to Friday, 9am-5pm)
Outside these hours, for emergency press enquiries only please dial the above number. You will hear a message giving an out of hours pager number.
Published 20 June 2014